It was an uneven 2016 recruiting cycle for Big 12 Football, where the top programs enjoyed the benefits of great recruiting presence while the lower-tier teams dug themselves holes for 2016 and beyond. We're here to look at the positive side of things, providing our list of the 3 Big 12 Programs Destined For Future Playoff Success After Signing Day.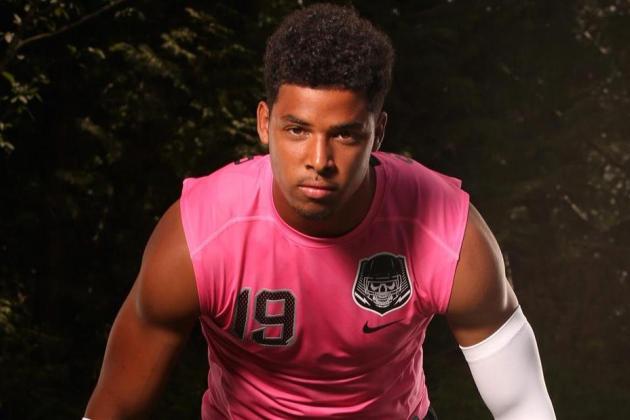 Wow, just wow. Even with the odd recruit not breaking their way (Dontavious Jackson), National Signing Day was Texas' time to vault back into the national spotlight. More on Texas' recruiting haul inside Chat Sports' iPhone and Android apps!
Jumping into the top ten of the national rankings from a consensus average in the mid-30s before the day, head coach Charlie Strong may have changed the narrative of the Big 12 Conference going forward by sealing a 13 four-star, 24 recruit class.
S Brandon Jones and OLB Jeffrey McCulloch are five-star talents when it comes to upside, and dual-threat QB Shane Buechele tops one of the most underrated skill-position hauls of the class (along with towering 6'6" receiver Collin Johnson). The Longhorns haven't fully turned the corner yet, but they look darn close.
Sooners head coach Bob Stoops was bashed by many a talking head for a recruiting cycle short on five-star caliber, "game-changing" signing. Then Caleb Kelly came along and ripped the criticism into shreds.
Picking Oklahoma at the end of a photo-finish, pick-from-a-hat showdown with Notre Dame, the five-star linebacker brings transcendent talent and undeniable grit to a Sooners defense in need of a blue-chip youth influx. Also, people need to stop sleeping on DE Amani Bledsoe -- he's the kind of edge rusher who creates pure chaos.
Add in a future pro-style QB stud in Austin Kendall, and this is a top-20 class with tremendous potential.
Art Briles did what he needed to do this cycle -- restocking at receiver and on both the defensive and offensive lines. Baylor's wide-open offense is predicated on playmakers on the outside and great protection up front. Guys like four-star WRs Tren'Davian Dickson and Devin Duvernay, along with four-star O-linemen Patrick Hudson and JP Urquidez will ensure that Briles' plug-and-play offense remains sharp.
On defense, four-star defensive end Brandon Bowen highlights a deep class which both restocks the cupboard and adds impact. Baylor's a major player, both in Texas recruiting and on the College Football Playoff radar. More on Baylor's recruiting haul inside Chat Sports' iPhone and Android apps!
Back to the Big 12 Newsfeed
Related Topics: Tren'Davian Dickson, Bob Stoops, Texas Football news, Art Briles, Oklahoma Football News, Patrick Hudson, Austin Kendall