The start of the Big 12 football season is just a week away, but it's clear who the very best players in the best conference are. However, there is some discussion and debate over how exactly to rank them. 247Sports put together the 247 best players in college football, and we've pulled the top 16 players from the Big 12. 
Every player on this list is a Top 150 selection according to 247Sports' rankings. There are a few notable players left off the list - including Oklahoma CB Jordan Thomas (152nd overall, 15th in Big 12), Iowa State RB Mike Warren (163rd overall, 16th in Big 12) and TCU DE James McFarland (166th overall, 17th in Big 12). With that in mind, here are the top 14 players in the Big 12 for 2016. 
14. OLB Elijah Lee, Kansas State 
We start with the lone Kansas State player. Lee will be a junior this year and is coming off an impressive season. He racked up 80 tackles, including 7.5 for a loss, and five sacks. He also showed impressive playmaking ability with three picks, two fumble recoveries and a forced fumble. Lee is once again the top player on the K-State defense, and was the No. 148 overall player in the rankings and the No. 12 outside linebacker. 
13. OLB Travin Howard, TCU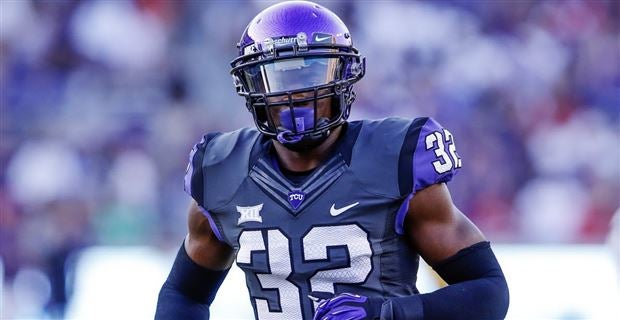 There are back-to-back linebackers to start it off for the Big 12. Howard is 11th among outside linebackers and 117th overall. While Howard is listed as an outside linebacker, his NFL career is at safety given that he's 6-foot-1, 190-pounds. He was a tackling machine last year, racking up 107 tackles and 9.5 tackles for loss. Howard and running mate Montrel Wilson could be the Big 12's top LB duo.  
12. WR KD Cannon, Baylor
Cannon is the first Baylor player on the list, checking in at No. 8 at the position and No. 112 overall. A perfect fit for Baylor's offense, Cannon posted 50 catches for 868 yards and six scores. Those numbers fell from 58/1,030/8, although Baylor's injuries at QB played a major role in that. With Corey Coleman in the NFL, Cannon is now the No. 1 wide out for the Bears. 
11. OT Connor Williams, Texas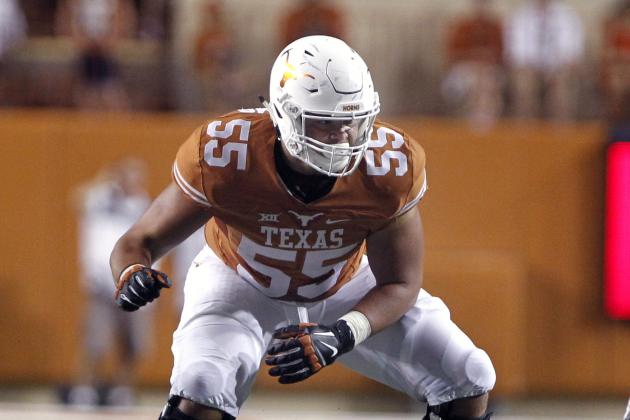 Williams is the only offensive lineman on this list. He's No. 13 among all offensive tackles and No. 106 overall. He was great at left tackle last year for the Longhorns, as a true freshman. Another year of development on the field and in the weight room should only help Williams in 2016. 
10. WR James Washington, Oklahoma State
Washington is the top rated WR in the Big, and the No. 7 player at the position. He's No. 88 overall after establishing himself as one of the best home-run threats in college football. As a sophomore last year, Washington averaged 20.5 yards per catch. He finished with 53 catches for 1,087 yards and 10 scores. While that YPC might not be sustainable, Washington is a dangerous weapon. 
9. RB Samaje Perine, Oklahoma
Perine is the only RB on the Big 12's list, and the No. 9 RB in the country. The No. 84 overall player split time with Joe Mixon in the Sooners' loaded backfield and still posted 1,349 yards and 16 scores. There might not be a better RB tandem than Mixon-Perine. 
8. S Denzel Johnson, TCU
The lone safety of the group is TCU's Denzel Johnson. As a junior last year, Johnson posted 79 tackles, 13.5 TFL and two sacks. He also broke up eight passes and returned his lone INT for a touchdown. The strong safety is the No. 6 safety in the country and No. 77 overall.
7. DT Charles Walker, Oklahoma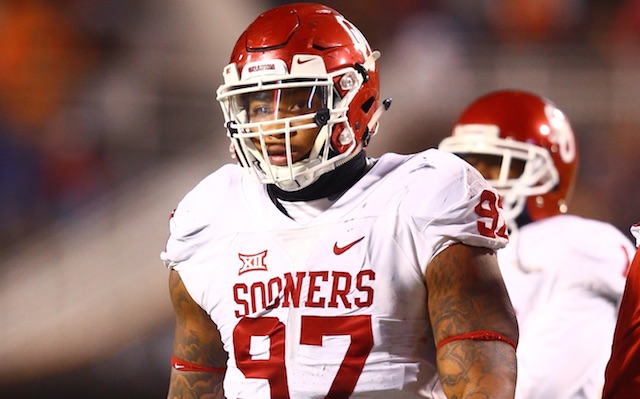 One spot above Johnson at No. 76 is Charles Walker. He checks in at No. 4 among defensive tackles after a strong sophomore season. Walker recorded only 36 tackles, but 10 of those were for loss and he added six sacks. Expect another big year for the best player on the Sooners' defense. 
6. QB Mason Rudolph, Oklahoma State 
Rudolph split some time with J.W. Walsh last year, with Walsh serving as the running, red-zone threat. That changes this year, as Walsh has graduated. Rudolph is listed as the No. 9 QB and No. 70 overall player after putting up 3,770 yards, 21 TDs and nine picks. With Walsh gone, those TD numbers should skyrocket. 
5. DE Josh Carraway, TCU
Carraway is the last of the TCU players, all of whom were on defense. The DE is a gifted pass rusher, recording eight sacks last year. Now a senior, Carraway is the No. 11 DE and the No. 65 overall player. 
4. LB Malik Jefferson, Texas
Jefferson is the highest-rated Texas Longhorn and the top defensive player in the Big 12, checking in at No. 56 overall and fifth among outside linebackers. Jefferson can play both inside and outside, starting as a true freshman last year for Texas. Despite missing time with injuries, Jefferson racked up 61 tackles, 7 TFLs, 2.5 sacks, a fumble recovery and a forced fumble. Expect a breakout sophomore season for Jefferson. 
3. QB Seth Russell, Baylor
Russell was a Heisman threat before going down with a neck injury and he starts a run on QBs to end the rankings. Listed at No. 36 overall and fifth among QBs, Russell will need to carry a Baylor team dealing with turmoil after the sexual assault scandal. 
2. QB Patrick Mahomes, Texas Tech
Mahomes is easily the top ranked Texas Tech player. The junior QB posted classic Red Raiders QB numbers, with 4,653 yards, 36 TDs and 15 picks through the air. He also contributed on the ground, with 456 yards and 10 scores. He's listed at No. 3 among QBs and No. 17 overall. If Tech can contend for a Big 12 title, Mahomes will be in the Heisman discussion. 
1. QB Baker Mayfield, Oklahoma
This one really shouldn't be a surprise. Mayfield was fourth in the Heisman voting last year after posting over 4,100 yards and 43 scores through the air and on the ground. He's the No. 8 player and behind only Deshaun Watson among QBs. More video game like numbers are on the horizon for Mayfield this year. 
Back to the Big 12 Newsfeed
Related Topics: Travin Howard, Big 12 Football, Connor Williams, James Washington, Malik Jefferson, Big 12 football news, Samaje Perine, Mason Rudolph, KD Cannon, Patrick Mahomes, Denzel Johnson, Josh Carraway, Elijah Lee, Baker Mayfield, Seth Russell, Charles Walker