The Baylor Bears have their fair share of impact talents to work with on their road to College Football Playoff glory in 2015, and these next guys are the biggest assets of all. Here's our list of the 6 Best Baylor Football Players For 2015:
6) QB Seth Russell, Jr.
Russell didn't get much playing time in 2014, but he definitely made the most of it - he completed 48 of 85 passes for 804 yards, 8 TDs and 1 interception. It wasn't against the kind of defenses he'll face as a starter, but it definitely bodes well for the next man up in Baylor's offense factory.
Art Briles' team isn't losing very many impact players, and Russell is coming into what might be the most QB-friendly job in NCAA football. Baylor insiders have raved about Russell's potential since he hit campus - if he proves them right, he'll be in the Heisman conversation.
5) WR KD Cannon, So.
The 6-0, 175-pounder emerged as an elite deep threat in his freshman season with track star speed and elite leaping ability, finishing second on the team with 1,030 receiving yards and eight touchdowns on 58 catches - averaging an astonishing 17.8 yards per grab. Those numbers should only go up in 2015 with a year of experience under his belt.
4) NT Andrew Billings, Jr.
Billings is making a name for himself as a pro prospect because of his tremendous quickness and athleticism for a 6'2" guy who weighs 300 pounds. The All-Big 12 performer came up with 37 tackles, two sacks, and 11.5 tackles for loss last season while plugging running lanes in the middle of the line.
3) OT Spencer Drango, Sr.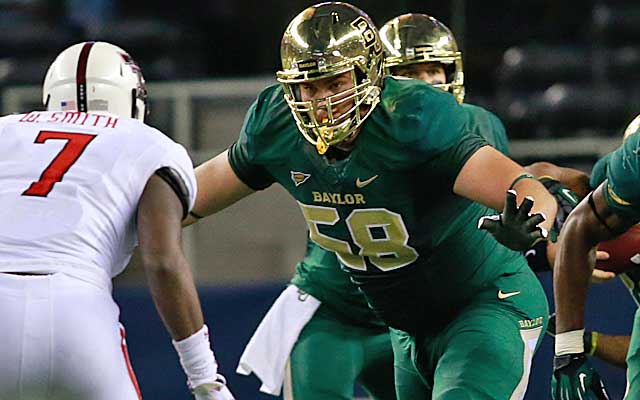 Drango is one of the nation's best all-around blockers and would've been a first-round pick had he entered the NFL Draft this year. At 6-6 and 310 pounds he has quick feet to go along with his elite strength, allowing him to be effective holding off pass rushers and creating running lanes.
2) RB Shock Linwood, Jr.
With Russell becoming Baylor's new starting quarterback, the Bears will need to rely more on the running game - and Linwood will make that transition MUCH easier for Russell. He ran for 1,252 yards and 16 scores in 2014, and should only put up better numbers as he gets more opportunities in 2015.
1) DE Shawn Oakman, Sr.
Oakman is he most freakish athlete in the country at 6'9", and 280 pounds with tremendous strength and athleticism. He finally put all of his physical tools together in 2014, making 51 tackles with 11 tacks and 19.5 tackles for loss. Baylor expects him to take another step forward this season, which would turn him from a breakout star to a certified top-ten pick.
Follow our Baylor Bears team page for all the latest Baylor news and rumors!
Back to the Baylor Bears Newsfeed
Related Topics: Baylor Bears, Baylor Football