The Baltimore Orioles are an interesting case study heading into the busy part of the upcoming offseason. They're stocked with enough talent, both young and veteran, to be considered a contender if they decide to be relatively quiet on the trade and free agent markets. However, we're already hearing big rumblings from around the club that point to some big fireworks ahead. Here's our midweek Orioles Rumors Roundup.
Alex Gordon To Baltimore?
The Kansas City Royals are considered the slight favorite to retain outfielder Alex Gordon in spite of him declining his $13.75 million player option. However, the Orioles have emerged as one of the early suitors who could swoop in and sign Gordon away from the World Series champs.
Via Jerry Crasnick of ESPN:
Hearing a lot of early #Cubs, #Orioles and #Astros chatter on free agent OF Alex Gordon at the GMs meetings.

— Jerry Crasnick (@jcrasnick) November 10, 2015
Gordon was limited to just 104 games in 2015 due to a groin injury, but his defense, leadership presence and .277/.377/.432 slash line were more than enough for the Kansas City front office to extend him a one-year, $15.8 million qualifying offer. He's likely to decline it, but there's still the possibility that he'll return to the Royals on a hometown discount.
Whatever the case may be, keep an eye on the O's. They've been prone to creative bouts of aggression in free agency, even if they tend to shy away from big multi-year deals -- especially for players like Gordon who're already in their 30s. Gordon may be just the guy who the front office deems an exception to the rule, but that's still speculative.
Possible Destinations For Chris Davis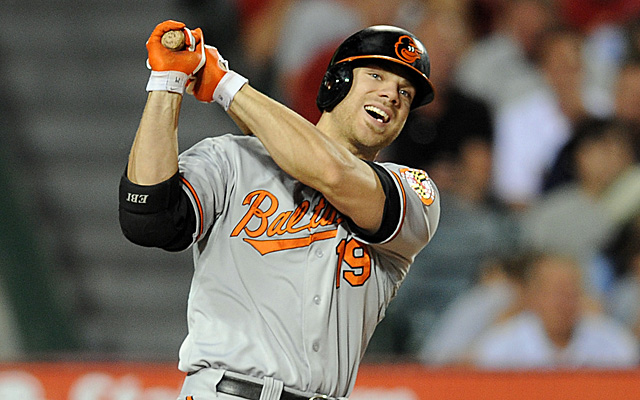 The Baltimore Orioles are reportedly already assessing options to replace 1B/OF Chris Davis, with the notion being that a one-year, $15.8 million qualifying offer will be cast aside as Davis bets on his MLB-leading 47 home runs as a selling point for a long-term deal. They reportedly want to keep him, but there's still a very real chance that he finds more money elsewhere than Baltimore is willing to spend.
According to Ken Rosenthal of FOX Sports, there are four "possible fits" for Davis at the present moment: the Red Sox, Astros, Blue Jays and Angels.
Davis leads the Majors with 159 homer runs over the past four seasons, along with posting the 9th-best slugging percentage over that span (.533). However, he hasn't struck out less than 169 times in a year over those four season and posted the highest strikeout rate in MLB for 2015.
Regardless, teams are looking past Davis' defiiciencies at the plate and focusing on his unique-to-this-era power. That could very well be the primary factor which prices the Orioles out if/when Davis declines his qualifying offer.
Darren O'Day Update
The free agent market is scarce on back-end bullpen talent, with Baltimore Orioles setup man Darren O'Day standing out as the #1 name out there alongside New York Mets reliever Tyler Clippard.
O'Day would be a fantastic setup option for any team, but there are also those who may be willing to bank on him transitioning into a closer. The Mets, Red Sox, Nationals, Tigers, Dodgers, Cubs and Royals are all contenders for O'Day. With the seller's market that's developing due to the lack of quality free-agent bullpen arms out there, the Orioles could be priced out in the O'Day chase even before it really heats up.
Back to the Baltimore Orioles Newsfeed
Related Topics: Alex Gordon, Orioles Rumors, Orioles Trade Rumors, Chris Davis, Darren O'Day