The Baltimore Orioles' open their slate of spring training games in a week against the Detroit Tigers, which means the O's action on the field will speak for itself soon; 25 players can put in nine innings on the diamond every day, Buck Showalter can get back to coaching and Dan Duquette can manage the roster to make the club as competitive as possible.
The best part? They won't have to settle for just talking to the media, as they've had to do for the entire offseason. The on-the-field product will tell us more about the state of the 2015 Orioles than what's been said through the pens, papers, microphones and cameras of the media.
Nevertheless, a lot has been said over the course of the offseason by various players, coaches and executives. Unfortunately, we're usually subject to a mincing of words that doesn't tell us the true, entire story in order to avoid ruffling any birds' feathers. Ever wonder what someone was really thinking or really wanted to say when they gave a politically correct quote this offseason? Look no further: 10 Orioles' offseason quotes translated.
Dan Duquette: "The biggest and most powerful improvement we have this year is [Manny] Machado is coming back and [Matt] Wieters is coming back." (Steve Melewski, MASN)
Translation: "We haven't made any major moves this offseason. In fact, we haven't made hardly any moves at all this offseason. But two injured all-stars who missed most of last season will be back in 2015, so it's kind of like we added two all-stars in the offseason... Right?... Maybe?..."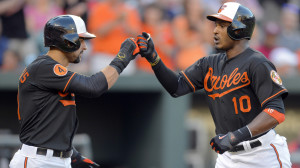 Adam Jones on the offseason: "You want to win and you want to have the guys that help you win. I mean, something has to be brewing in order for them to let Markakis go. I have to have the respect for the front office that they deserve. I have to see what Showalter and Dan [Duquette] have up their sleeves... They better have something up their sleeves." (Dan Connolly, The Baltimore Sun)
Translation: "I'm going to be just a tad upset if this team doesn't add some serious talent to replace what we're losing."
Dan Duquette when asked about his interest in the Toronto Blue Jays' CEO job: "At this point, there really is nothing to say on the issue. I don't have a comment... I will talk about it when the time is appropriate." (Dan Connolly, The Baltimore Sun)
Translation: "Of course I'm interested in this job, but I'm still employed by the Orioles. I probably shouldn't say anything until it's official, and I'm sure a deal will get done any day now... So, until then: No comment."
Team owner Peter Angelos on trading Duquette to Toronto: "That is not going to happen.. He is our GM and he is going to remain our GM... That is the answer. Period... They have expressed interest in Dan Duquette, which we understand because Dan is an exceptional GM. But we are not in any negotiations... We have a contract [with Duquette], and that's the end of it." (Dan Connolly, The Baltimore Sun)
Translation: "Trade Dan Duquette? Let him leave? Are you kidding me? We finally have a great team again, and now the Blue Jays expect me to just let the man who assembled a good portion of this roster, the 2014 Executive of the Year, take their job? Not so fast. What, do they expect us to trade Buck next, too? Dan Duquette WILL be the Orioles GM."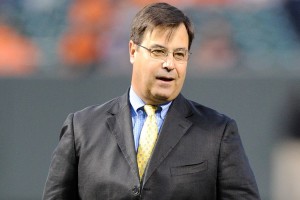 Host: "An opportunity to be the CEO of an organization like the Toronto Blue Jays is not something I think you're supposed to stand in the way of someone doing... You don't stand in the way of someone progressing. Here is a unique opportunity for you and your family. I'm not understanding why it's not done."
Dan Duquette: "Well, that's a good question... I don't have the answer to that question." (MLB Network Radio, SiriusXM)
Translation: "You're absolutely right. It's a better job with a better title that pays better money. I want to be the CEO of the Toronto Blue Jays. Wouldn't you if you were in my position? No offense to the Orioles or the front office, but it's not right that someone would try and keep me from such a substantial promotion."
Buck Showalter on the O's right-field situation: "We're equipped to have that be a two- or three-headed player." (Brittany Ghiroli, MLB.com)
Translation: "Steve Pearce, Travis Snider, Delmon Young: May the best man win... or at least get the most playing time."
Buck Showalter on Chris Davis receiving Adderall exemption for the 2015 season: "It's a good thing." (Eduardo Encina, The Baltimore Sun)
Translation: "It's a good thing... Now he'll be able to focus on the baseball and actually hit it this year. Hit it more often, hit it further and hit it where fielders aren't."
Buck Showalter: "If you asked what is a more important spot in our order, one or nine, I'd probably say nine. Because that allows you to do a lot of things down there." (Steve Melewski, MASN)
Translation: "As of right now, I'm not really sure who our leadoff hitter is going to be; we don't really have one. But boy, do we have plenty of No. 9-caliber hitters!"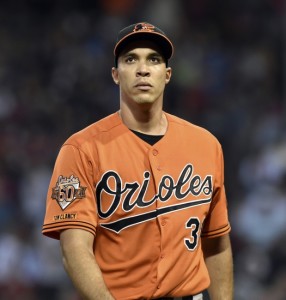 Buck Showalter on Ubaldo Jimenez early in spring training: "He was good today… Boy, he was in the zone the whole day today. That was pretty good the first time out." (Roch Kubatko, MASN)
Translation: "Wow, I'm not sure I've ever seen Ubaldo throw this many strikes in one day! He may have thrown more today than he did in the entire 2014 season now that I think about it. Here's to hoping (and praying) for many more."
Ubaldo Jimenez: "Last year was a disappointing year. It was a really bad year. There's no doubt about it." (Rock Kubatko, MASN)
Translation: "Last year was a disappointing year. It was a really bad year. There's no doubt about it." (Hey, at least he can be honest about it.)
Back to the Baltimore Orioles Newsfeed