Motorsports has historically been viewed as a male sport, but concerted efforts are being made to address the gender imbalance.
It has long been argued that females lack the physical capacity to compete at the top level, although there have been plenty of women racers who have disproved that theory.
Recent research by Betway highlighted numerous female drivers who have made a significant impact in major motorsports series.
Jutta Kleinschmidt is one of the most notable examples as she was the first and only woman to win an overall classification of the Dakar Rally to date.
Sabine Schmitz was another female who showed her male counterparts a clean pair of heels by winning the 24 Hours of Nürburgring race in 1996 and 1997.
There have been plenty of other female drivers in some of the big North American series such as NASCAR, but most top-level competitions remain male-dominated.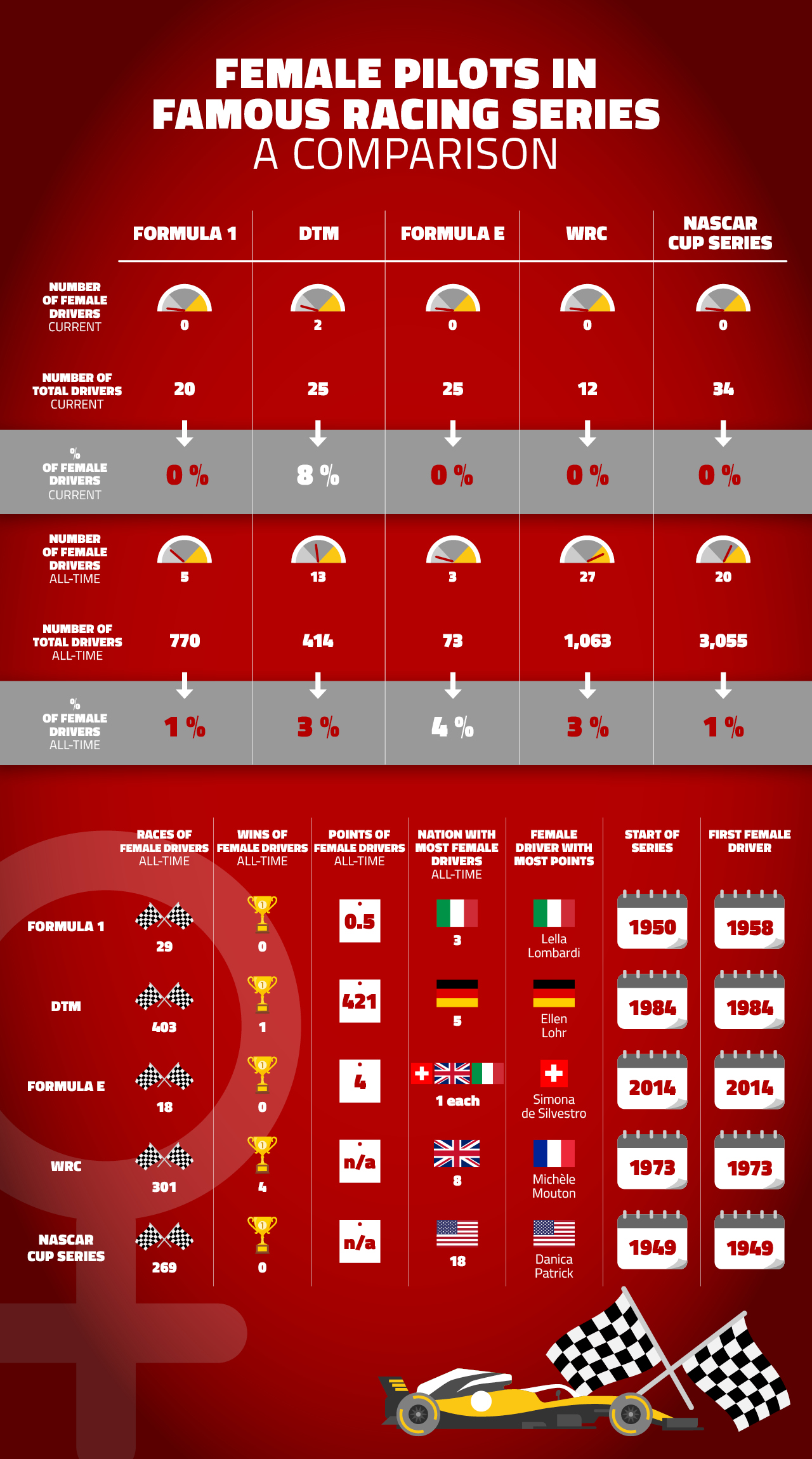 However, there has been a growing push in recent years to address the situation, with legendary rally star Michele Mouton the driving force behind the race for inclusivity.
Mouton famously dispelled the notion that women could not compete with men in motorsports, producing some stunning results in rallying.
She finished second in the 1982 World Rally Championship behind Walter Rohrl after recording victories in Portugal, Brazil and Greece.
Mouton helped Audi to its first manufacturers' title that season and followed up with a fifth-place finish in the Drivers' Championship the following year.
She subsequently won the Pikes Peak International Hill Climb in the United States in 1985, setting a record time in the process.
After joining Peugeot in 1986, Mouton competed in the German Rally Championship and became the first female driver to win a major series in rallying.
Mouton was appointed as the first president of the FIA's Women & Motor Sport Commission in 2010 and has since worked tirelessly to increase female participation in motorsports.
She is the brains behind an initiative launched in 2020 entitled 'FIA Girls on Track – Rising Stars' which is designed to find the best young female between the ages of 12 and 16.
The scheme's goal was to produce two female drivers in the Scuderia Drivers' Academy and one woman in the Formula 4 series in four years.
Things have gone much better than expected, the 16-year-old Maya Weug already becoming the first female to join the Ferrari team.
Mouton has often been vocal about creating equal opportunities for women racers, and was not overly impressed with the launch of the women's only W Series in 2018.
The competition has the backing of former F1 driver David Coulthard and engineer Adrian Newey, but Mouton believes it is counterproductive to achieving inclusivity in motorsports.
"It's a good platform for women to race and if they can do so for free, why not?" she told MotorSport Magazine.
"For me, though, anyone who wants to succeed needs to show they are the best – not just the best female.
"If they want to get to the top, at some point they are going to have to fight with men, so why segregate?"
Given Mouton's own achievements in rallying, it is impossible to argue with her viewpoint.
Get more from Chat Sports on our YouTube channel!
Back to the Auto Racing Newsfeed