Updated 11/18/15 at 3:51pm EST
The seat of Gus Malzahn is warming up and getting hotter with each game. Big things were expected out of the Auburn Tigers this season and they have failed to live up to those in every way. Auburn nearly blew the season opener against Louisville and then nearly lost to FCS school Jacksonville State. It's gotten much worse since then. The Tigers have lost three of their last four games, dropping to 5-5. 
Malzahn's area of expertise is offense, and the Auburn offense has looked awful. QB Jeremy Johnson was plagued by turnovers, resulting in Malzahn turning to redshirt freshman Sean White. White had been up and down so far since taking over. Neither QB played well in the team's 20-13 loss to UGA The calls to fire Malzahn are continuing to grow louder as the days go on.
Auburn expects to compete every year and one bad season is enough to result in a firing; just ask Gene Chizik. Malzahn has a hefty buyout, but Auburn boosters want to win now. They'll pony up the money to fire Malzahn if needed. 
The decision to bench Johnson reeked of desperation and Malzahn will need the offense to turn things around quickly if he wants to keep his job. So far this season, that hasn't been the case for Auburn. 
If Malzahn is fired, Auburn will likely swing for the fences with its next coach. Here are 10 coaches who will likely receive phone calls from Auburn if they decide to replace Malzahn. 
10. Tommy Tuberville, head coach, UC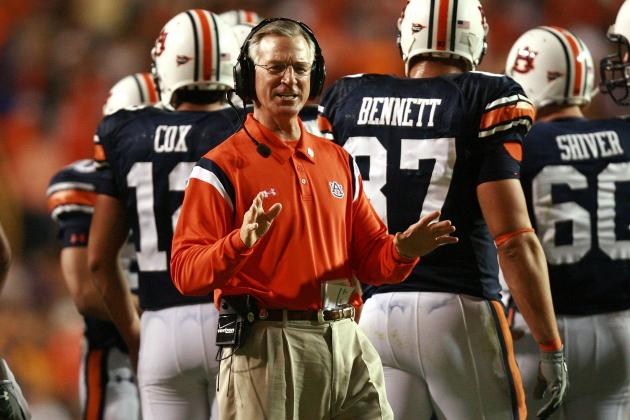 It's not as outlandish as it seems. Tuberville still has a good relationship with Auburn, and he'd love to get back into the SEC. In fact, his son Tucker is on the Auburn roster as a walk-on QB. This would be a bit like going back to the ex-girlfriend, but that can work out sometimes.  
9. Mark Stoops, head coach, UK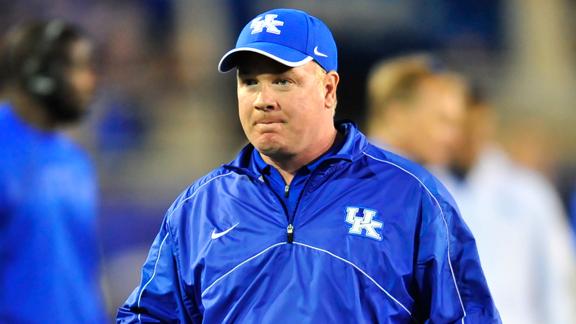 The brother of Bob Stoops, Mark is quickly turning around Kentucky. If Auburn is looking to hire an up-and-comer, Stoops could be an option. 
8. Ed Orgeron, defensive line coach, LSU
Orgeron struggled in his three years at Ole Miss, but there is no doubting his recruiting ability. Houston Nutt had success his first two seasons at Ole Miss, using Orgeron's recruits. Orgeron did a great job as the interim head coach at USC and wants another chance to be a head coach. Perhaps Auburn could indulge that desire. 
7. Mark Hudspeth, head coach, Louisiana-Lafayette 
Hudspeth is one of the more promising young coaches in college football. He's guided Louisiana-Lafayette to four straight nine win seasons, after dominating at North Alabama. If Auburn wants an up-and-comer, Hudspeth would a solid option. 
6. Kirby Smart, defensive coordinator, Alabama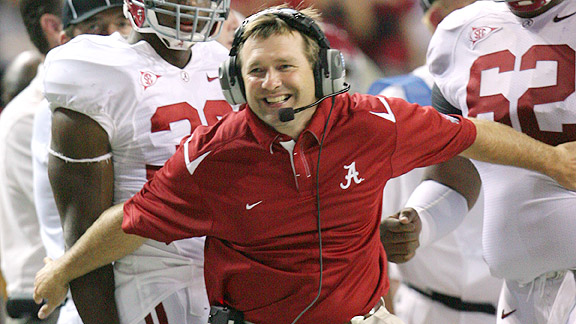 Smart was a candidate for the Auburn job when it went to Malzahn and Smart could be an option again if Malzahn is dismissed. Smart has spent much of his career with Nick Saban, which could bring a dynamic reminiscent of Bo Schembechler and Woody Hayes to the Iron Bowl rivalry. 
5. Jon Gruden, ESPN Analyst 
Gruden's name pops up every time a major college head coaching job becomes available. If Malzahn is fired, expect that to be the case again. Gruden's college coaching experience is limited, but he's good enough to win anywhere.
4. Chip Kelly, head coach, Eagles
If things don't work out in the NFL for Kelly, he'd immediately become the most-sought after coach in recent college football history. Kelly might get things turned around in Philadelphia, but if the Auburn job were to also open up, it would present the perfect get-away for Kelly. Kelly to Auburn would be a home run for both sides.
3. Bob Stoops, head coach, OU
It might be a reach, but Stoops' name always comes up when a big-time job is open. If Stoops ultimately decides to leave his job at Oklahoma, Auburn could be an option. 
2. Gary Patterson, head coach, TCU
Patterson was a target the last time Auburn has a vacancy, and Auburn would likely try to lure Patterson away from TCU. It's unlikely, but Auburn would at least try to hire Patterson. 
1. Jimbo Fisher, head coach, FSU
If Malzahn is fired, expect Fisher to be the top target for Auburn. It'd be unlikely, but Auburn will try. Fisher has Auburn ties, having spent several years there as a QB coach. If Fisher wants to leave FSU, he could land at Auburn. 
Back to the Auburn Tigers Newsfeed
Related Topics: Gary Patterson, Ed Orgeron, Kirby Smart, Jimbo Fisher, Tommy Tuberville, Mark Hudspeth, Auburn Tigers Rumors, Bob Stoops, Chip Kelly, Gus Malzahn, Jon Gruden, Mark Stoops