The Auburn Tigers have their fair share of impact talents to work with on their road to College Football Playoff glory in 2015, and these next guys are the biggest assets of all. Here's our list of the 6 Best Auburn Football Players For 2015.
6. RB Roc Thomas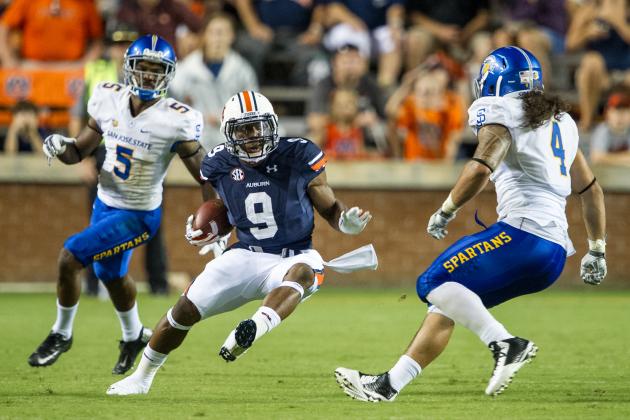 Thomas has just two starts last year, finishing with 214 yards and two touchdowns. However, he's an absolute mini-wrecking ball at 5-10, 203 pounds, bouncing off blocks while providing versatility for an Auburn backfield that needs it. He'll earn the majority of the reps at tailback by the end of 2015, and that means big things for the Tigers offense in general.
5. LB Kris Frost
Frost lived up to his blue chip recruit status in 2014, amassing 87 tackles with 3.5 sacks and 10 tackles for a loss. A vicious open field tackler, count on Frost to build off his dominant 14-tackle performance against South Carolina and 12-tackle bowl game breakout with a 2015 campaign worthy of All-SEC status.
4. LB Cassanova McKinzy
McKinzy bulked up in the offseason, coming into camp at a rock solid 6-3, 253 pounds. After finishing with 91 tackles, 11.5 stops for a loss and an interception in 2014, the extra mass should only add to those numbers and make him even more of an asset against the run. One of the smartest, most active linebackers in college football, McKinzy is the perfect leader for this Auburn defense.
3. WR Duke Williams
The electric JUCO transfer posted 45 catches for 730 yards and five touchdowns last season despite missing three games, two due to injury and the bowl game due to suspension. He's not a home run threat in the mold of Sammie Coates, but that's no knock on his playmaking ability. Williams is a dream combination of size, speed and leaping ability -- making him a true #1 target who's going to give SEC corners and safeties fits all season long.
2. QB Jeremy Johnson
Johnson has the talent and upside to turn two years' familiarity with the Auburn system into gold as a game breaker for the Tigers under center. Johnson has tremendous size at 6-5, 240 pounds, and he has the elusiveness and big-time arm to make almost every throw from almost every spot behind the line of scrimmage. Also, when he gets momentum in the open field, stationary defenders don't have a prayer.
1. CB Jonathan Jones Jones was Auburn's best all-around defender in 2014, using solid size and elite speed to befuddle opposing wide receivers at every turn. He's not an explosive hitter and he's coming off a foot injury, but there's no cornerback in the nation who has better instincts or a nose for the ball like Jones does.
Follow our Auburn Tigers team page for the latest Auburn football news!
Back to the Auburn Tigers Newsfeed
Related Topics: Jeremy Johnson, Auburn Football, Auburn Tigers, NCAA