In 1894, the Arkansas - Texas rivalry was born. The two teams have met a total of 77 times, with Texas leading the series 56-21. The two teams haven't met since 2008, but now the drought is over.
On December 29th, the Razorbacks and the Longhorns will face off in Houston for the Texas Bowl.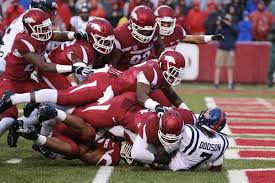 This year, Arkansas ended the regular season with a 6-6 record, but the Hogs went just 2-6 in the SEC. Despite that record, the Razorbacks proved to many fans that they're turning the corner and becoming a very competitive team under head coach Bret Bielema.
The Razorbacks made history this season as the first unranked team to shut out two ranked teams in consecutive weeks. Arkansas beat #17 LSU 17-0 on Nov. 15, and  #8 Ole Miss 30-0 on Nov. 22.
Texas also had a 6-6 record, with a more appealing conference record (5-4) than Arkansas. West Virginia was the only ranked team the Longhorns beat this year, though, and they didn't have to face seven ranked opponents in eight games like the Razorbacks did. Other significant wins for the Longhorns were Texas Tech and Oklahoma State.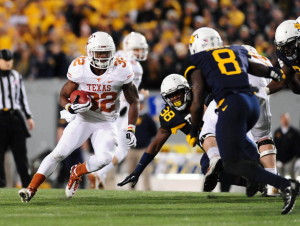 Texas was dominated by TCU during its last game of the season. The team lost 48-10 against the Horned Frogs, who now stand at No. 6.
As Arkansas and Texas meet again after six years off, the matchup will be hotly anticipated...but if the bowl game follows the script from how the regular season went for these two teams, Arkansas would come out on top.
If the Hogs want to win this game and use it as a springboard for next season, the defense must stay aggressive, the running game must stay strong and Brandon Allen must compete like an elite quarterback.
Prediction: Hogs win 31-7.
Back to the Arkansas Razorbacks Newsfeed