The Arkansas Razorbacks have outscored their opponents 174-49 in their last three wins. The team is now 3-1, with their one loss coming on the road to defending SEC champion Auburn.
Fans have seen major improvements from last season in every aspect of the game.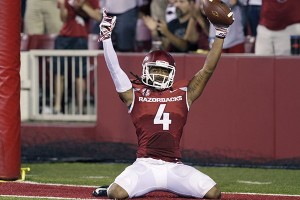 However, all three wins have come against unranked teams. The true test for Arkansas will be their next game, as the team travels to Arlington Texas to face #6 Texas A&M at AT&T Stadium.
If Arkansas wants to pull off the upset and keep working its way up the rankings, they need to play to their potential and avoid unforced errors.
New Aggies quarterback Kenny Hill has proven he can lead A&M to another successful season, surpassing Johnny Manziel's career high for passing yards in a single game in just his first start, and A&M is now 4-0 on the season.
The Razorbacks will be the clear underdogs in this matchup, a theme that will likely continue for most of the season. Arkansas has arguably the toughest schedule in the NCAA this year, but the Hogs have shown that they're ready to put in the work.
QB Brandon Allen might be Arkansas' most noticeable improvement from last season. He has thrown eight touchdowns and rushed for two with just one interception on the season. If he can handle the pressure he'll unquestionably get from the A&M defense, Allen will prove he can take this team to the next level - something fans have been waiting years to see.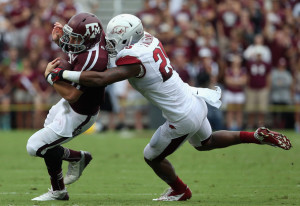 Although the Razorbacks' defensive players have been able to hold their own over the last three games, they struggled to play the full four quarters against Auburn. Against A&M, there will be no room for defensive mistakes. The defense needs to wrap up on tackles and pressure Hill early in the game to set the tone.
The running game is Arkansas' best weapon and will be vital for an upset victory. Running backs Alex Collins, Johnathon Williams and Korliss Marshall will have to not only power through the middle, but also work the outsides, since A&M's defense is excellent at seeing patterns and making adjustments to shut down opponents on the ground. To assert themselves on the ground and open up the offensive playbook, the Razorbacks will need to be creative and unpredictable.
If Arkansas gets the run going, receivers Keon Hatcher, Jared Cornelius, Cody Hollister, Hunter Henry and AJ Derby need to take advantage. These guys just can't keep dropping the ball - too many times this season, Allen's passes have gone straight through the hands of his receivers, costing the team easy touchdowns or first downs.
The Aggies will put up big numbers, so it'll be a matter of putting up even higher numbers if the Razorbacks want to pull off the upset and take down a top ranked team, inching their way closer to the top 25.
Back to the Arkansas Razorbacks Newsfeed