The Arkansas Razorbacks shut out the #17 Louisiana State Tigers Saturday night 17-0, breaking a 17 game SEC losing streak.
That's a lot of 17's. Some called it fate, some said "finally," but coach Bret Bielema was mostly just proud of his guys for not letting the losing streak get to them.
"We've had some bad things happen to us, but we kept  reacting in the right way and eventually good things were going to happen," Bielema said.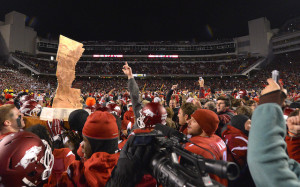 Razorbacks kicker Adam McFain was the first to put points on the board early in the first quarter. The team went on to score two more touchdowns from running backs Jonathan Williams and Alex Collins. Brandon Allen had 169 yards on the night with no touchdowns and no interceptions. The Hogs offense had zero turnovers.
The Arkansas defense played an excellent game, holding LSU to zero points. The Tigers had the chance to make two field goals but kicker Colby Delahoussaye was off target. The Hogs did an impressive job stopping LSU on third downs, and forced one turnover on the night. LSU was held to just 36 rushing yards and 87 passing yards.
Arkansas has played some tough competitors this season, getting very close to victories but never able to close out games in the fourth. The team lost to Alabama (now ranked #2 in the country) by one point and to Mississippi State (who was no. 1 at the time) by one touchdown, but Saturday they finally crossed the finish line. This win might be the confidence boost this team needed to take their game to the next level - we'll find out next Saturday when #10 Ole Miss comes to town.
This team has improved significantly from last season and now stands at a record of 5-5. As for the fans, they're pleased with the performance.
"It's just a fun thing to really share it with such a fanbase that absolutely enjoys every trial and tribulation the way that they did," Bielema said.  "To get them a win but also to let them know there's some really good things coming."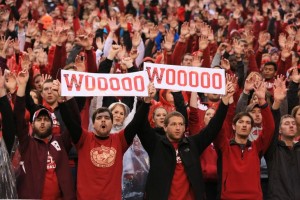 The loyal Arkansas fans stood in 30 degree weather until the game was over, rushing the field despite pleas from the announcer for everyone to stay in their seats.
With so much at stake for the Hogs and the glory of bringing the boot trophy back to Fayetteville, nearly 10,000 people rushed to center field to congratulate and celebrate with the team. With the SEC losing streak finally over, Bielema and the fans are hoping to see the beginning of a different kind of streak in Arkansas.
Back to the Arkansas Razorbacks Newsfeed