The Arizona Cardinals have a relatively short history compared to other NFL franchises, but the team has still boasted some great players since moving to Arizona in 1988. Here are the 8 best players in Cardinals history:
8. Darnell Dockett, DE (2004-'14)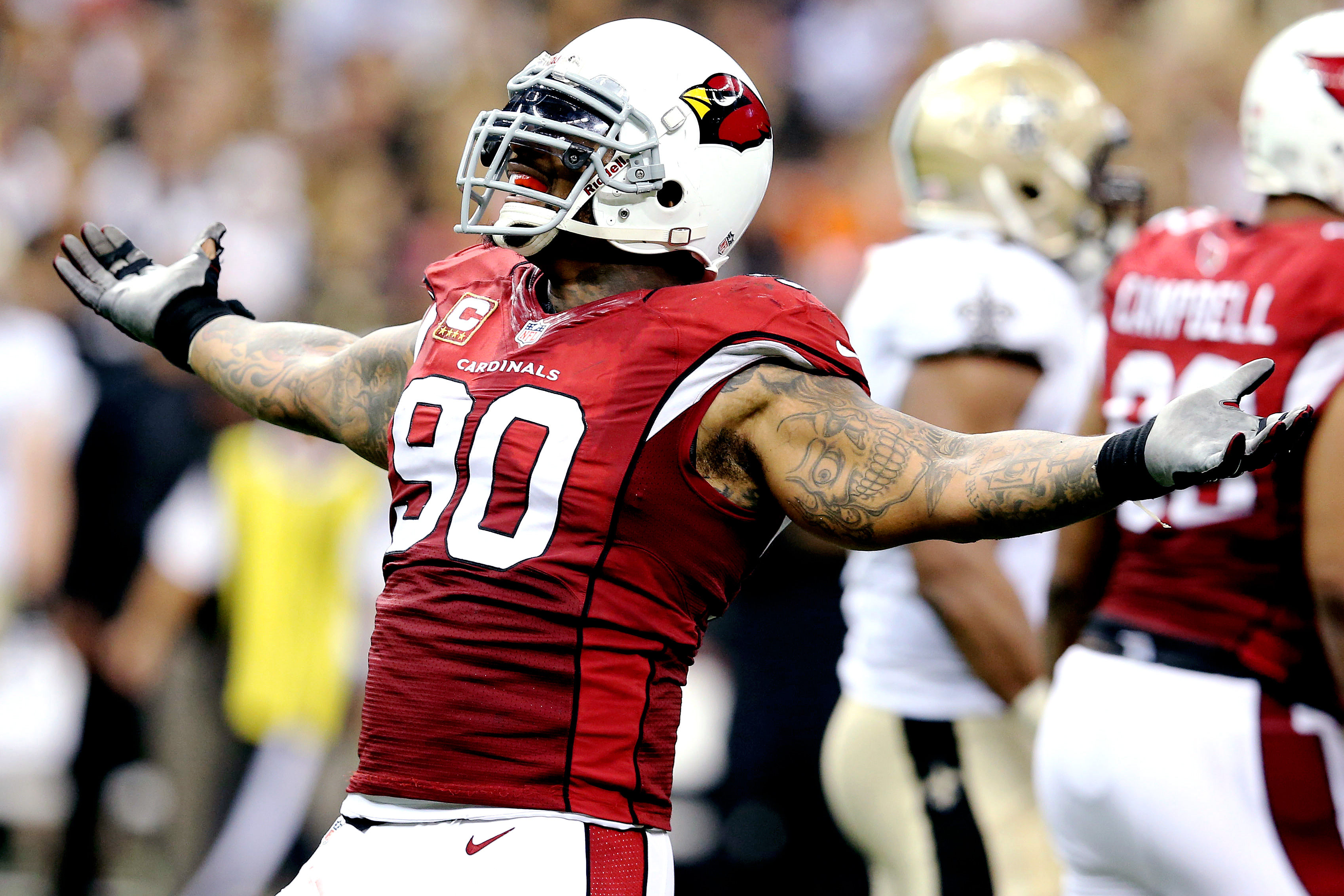 The eighth spot in this list is really a toss-up, but Darnell Dockett is deserving as anyone, playing 11 seasons in Arizona and racking up 40.5 sacks, four interceptions and proving versatile as both a defensive tackle and edge rusher.
7. Adrian Wilson, SS (2001-'12)
Adrian Wilson is one of a long list of great defensive backs to play in Arizona, but his career has topped many of them. A five-time Pro Bowler, Wilson finished with 27 interceptions, 100 pass defenses, and 16 forced fumbles. He also ranks sixth on the list of games played as a Cardinal, with 181.
6. Pat Tillman, DB (1998-2001)
Pat Tillman's legacy will be remembered most for the great service he gave to his country, and rightfully so, but his NFL career was nothing to ignore either. The Arizona State product spent four seasons playing safety, where he racked up 109 solo tackles in 2000, along with three forced fumbles and three interceptions across 39 starts.
5. Patrick Peterson, CB (2011-present)
The dynamic corner/return man out of LSU, Patrick Peterson has the shortest Arizona tenure of anyone on this list, but has made a tremendous impact in his four seasons. Peterson has already amassed five total return touchdowns (four punts and one interception) and 15 interceptions, while starting in all 64 games since coming into the league. If Peterson stays in Arizona for the foreseeable future, he can easily rise to the second spot on this list.
4. Aeneas Williams, CB (1991-2000)
The newly inducted Hall of Fame corner, Aeneas Williams ranks second in team history with 46 interceptions and first with six pick-six's. Williams made the Pro Bowl eight times and was named to three First-Team All-Pro teams.
3. Anquan Boldin, WR (2003-'09)
Before Larry Fitzgerald came to town, Anquan Boldin was the top receiver in Arizona. While Fitz blew past many of Boldin's career marks, the former Seminole still sits second on Arizona's receptions list with 586, to go along with 44 touchdowns and three Pro Bowls over seven seasons in the desert.
2. Kurt Warner, QB (2005-'09)
Kurt Warner's tenure in St. Louis may be better recognized, but the veteran spent the second half of his career putting up almost identical numbers in a Cardinals uniform. Warner led the Cardinals to a Super Bowl appearance in the 2007-08 season, and climbed up to fourth on both the Cardinals' career passing yards and passing touchdowns list - doing so in just five seasons.
1. Larry Fitzgerald, WR (2004-present)
What hasn't Larry Fitzgerald done since the Cardinals drafted him 3rd overall in 2004? Fitzgerald has spent 11 seasons blowing past the franchise records for receptions (909), yards (12,151) and touchdowns (89), while gaining eight Pro Bowl bids. Fitzgerald already tops this list and it will be difficult for any player to supplant him as the best Cardinal in team history.
Back to the Arizona Cardinals Newsfeed