Another fantastic season of Alabama Crimson Tide football ended in unfamiliar fashion last year: losing in the national championship game. Playing for titles has become the expectation in Tuscaloosa, and 2017 is no different - except that the Tide expect to get the job done. Here are five reasons why Alabama will return to their rightful place atop college football this season:
1) Jalen Hurts' improvement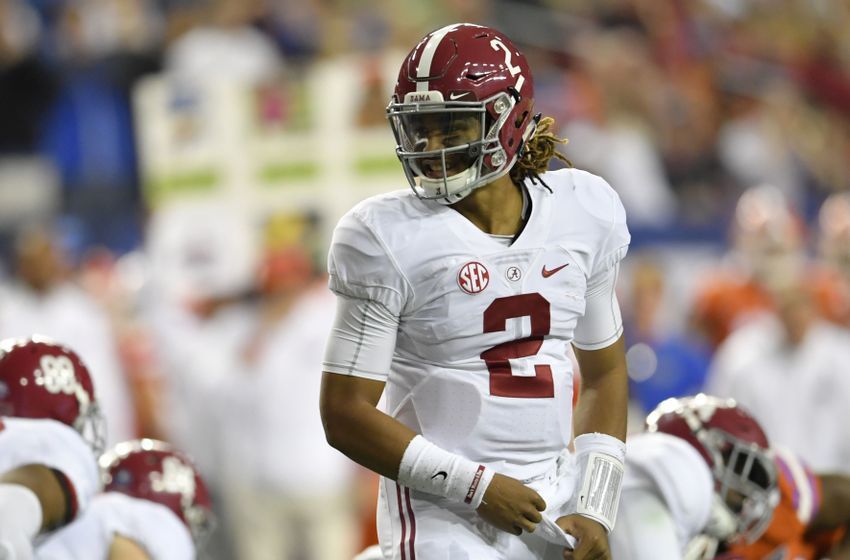 Hurts could become one of the elite quarterbacks in the country this year. He is a talented dual-threat, and though he struggled at times as a passer last season, everything out of Tuscaloosa suggests he has really improved in that area. His numbers as a true freshman, 65.3 completion percentage, 2,592 yards, 22 touchdowns and nine interceptions with 841 yards and 13 touchdowns on the ground, are mighty impressive - and they should only go up.
2) Loaded backfield
Damien Harris ran for over 1,000 yards last year, Joshua Jacobs had three games with over 100 total yards in 2016 and Najee Harris was the No. 1 overall recruit in the country - and none of them are starting. That distinction (for now) belongs to Bo Scarbrough, who powerful runner at 6-foot-2 and 230 pounds to go along with breakaway speed. All four of these backs would start for 99 percent of all other teams in the country, and the Tide are going to use them all very often - which is bad news for opponents. 
3) Another dominant defense
Yes, Alabama has to replace Jonathan Allen, Marlon Humphrey, Eddie Jackson and all three linebackers, but the Tide still have plenty of talent to replace them (that's what happens when you have top recruiting class after top recruiting class). Mack Wilson looks poised to be a star, Rashaad Evans is the talented leader of this group and Trevon Diggs has all the athleticism to be a true lockdown cornerback. 
Oh yeah, and Minkah Fitzpatrick is still around and may be the best player on the team. If you're expecting this group to take a step back, you're mistaken. 
4) Who will challenge them?
The SEC has certainly shown that they have no one who can really challenge Alabama, and that's not going to change until LSU finds a quarterback, Auburn gets significantly better and the SEC East stops being, well, the SEC East.
But around the country, the Tide are the clear title favorite. Florida State is losing their biggest impact players off last year's team in Dalvin Cook and DeMarcus Walker, Ohio State will have one of the youngest teams in the country, Clemson lost everyone, USC has no one outside of Sam Darnold and Penn State has no offensive line or defense. No one can match Alabama's talent and all-around skill level.
5) Nick Saban
Critics of Nick Saban usually miss the point. His sometimes gruff exterior in media sessions is a calcuated facade which belies the respect he both commands and gives to his players in private one-on-ones. Yes he's a taskmaster sometimes, but he's one of the most successful taskmasters to ever step on a college football sideline. Results don't lie, and Saban's nine-straight double-digit win seasons and five national championships (four with the Tide) are reason enough to at least pencil the Tide for a berth in the College Football Playoff.
Follow our Alabama Crimson Tide team page for all the latest Alabama football news or download the Chat Sports App!
Back to the Alabama Crimson Tide Newsfeed
Related Topics: Jalen Hurts, Nick Saban, SEC Football, NCAA Football, Alabama Crimson Tide Football