By Katie Baird, Chat Sports Campus Ambassador at the University of Alabama
Rain or shine the University of Alabama game day traditions are a huge part of the Alabama football scene.  There's nothing better than waking up on a game day Saturday morning to see the sun shining and hear the preparations of fans setting up their tailgates for the day. Here are the top 10 traditions that make Alabama football games amazing:
1.   Yellow Hammers!
When talking about tradition for game day, Yellow Hammers might take the cake! Thanks to Gallettes, a very popular bar only a few hundred feet from Bryant Denny, Alabama fans have a delicious drink to sip on while chanting the infamous Rammer Jammer Yellow Hammer cheer after the Tide rolls over another team. Although Gallettes doesn't like to reveal the yummy recipe, we do know it contains a few different rums, vodka, as well as pineapple and orange juice.
2. Southern Food
You can't talk about how amazing the South is without mentioning on the delicious recipes it has provided us with. Whether it is a good barbeque pulled pork sandwich or some crispy fried chicken with a side of mac n cheese, you'll be sure to feel full and satisfied. A pregame favorite at the University of Alabama are Big Bad Wolves' BBQ Nachos. These nachos are tortilla chips topped with pulled pork, nacho cheese, homemade BBQ sauce, and jalapenos. If you're looking for a more traditional meal, try Rama Jama's! Rama Jama's is a small building located on Paul Bryant directly across from the stadium and is filled with loads of Alabama football history. 
3. The Quad
It's a known fact that Alabama knows football, but we also know how to party! Starting the Thursday before a home game, you can see the works of the Quad being set up for Saturday. Game day on the quad is a sea of tents, large screen televisions, chairs, tables, and of course, lots of food!  Southern hospitality is out in full force and fans are always willing to make new friends and invite others to join their tailgates.
4. The Attire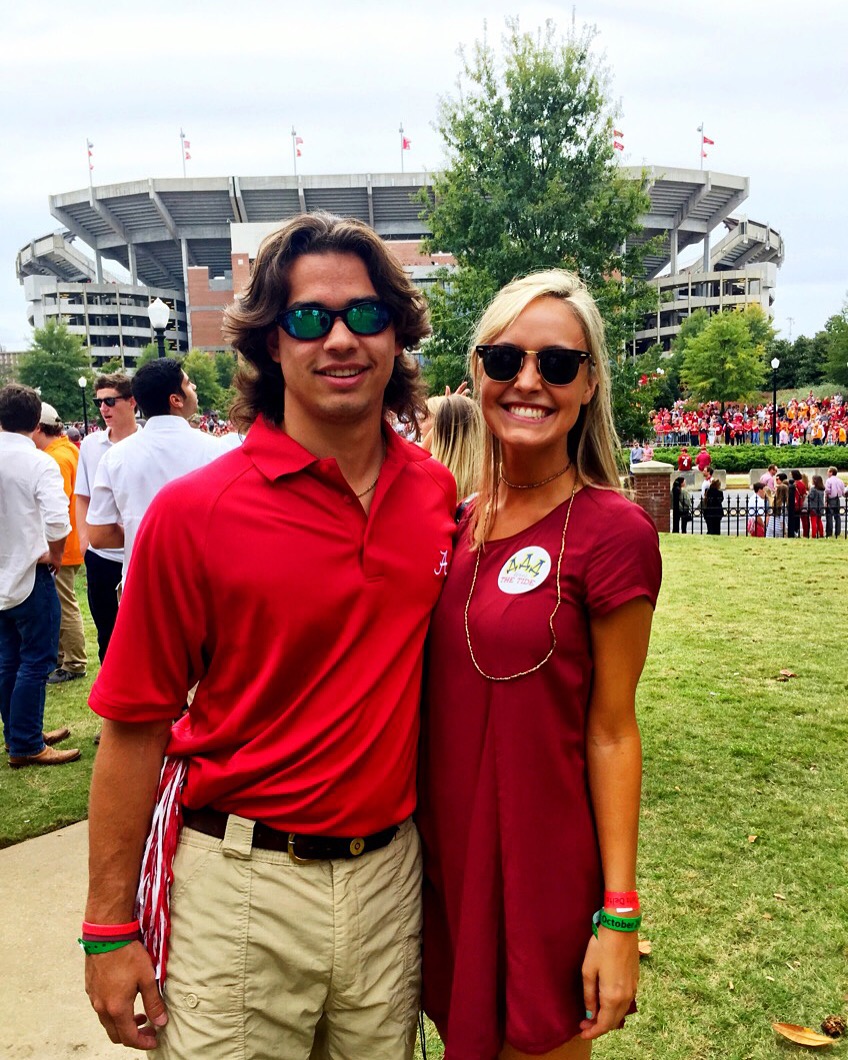 Football goers at Alabama will always be dressed to impress, even if it's just to tailgate! The typical outfit for girls consists of a skirt and cute blouse or dress, in the Alabama colors of crimson or white. Black and shades of red are also acceptable. Many people opt for comfy and stylish cowboy boots or booties while the more fashionable fans tend to choose wedges! For guys the standard is just as high! Their typical outfit would be khakis or nice jeans paired with a polo or button down with boots to top it off.
5. Fraternity Tailgates and Dates
Something that sets Alabama football game days apart from other schools is the fraternity house scene. Greek life at Alabama consists of 33% of the student body. Directly across from Bryant-Denny you can find four of the beautiful, Southern fraternity houses that will be packed on Saturdays in the fall. Another Southern tradition that Alabama follows is the idea of "game day dates". Boys often ask girls to be their date for the games and then they will tailgate and attend the game together. What better way to bond with boys than over some Alabama football!
6. The Songs of Alabama Football
Another thing that sets Alabama football traditions apart from other schools is the collection of songs that all Alabama fans must know! Many people are aware of our tradition of singing "Rammer Jammer" after a win but there is more than just that. Another classic song our fans love to hear is "Sweet Home Alabama." Of course, after singing, "sweet home Alabama" the crowd knows to respond with "Roll Tide Roll."  My personal favorite, and the student section's too, is "Dixieland Delight" by Alabama. Just like "Sweet Home Alabama," fans know what to shout in between lines of this song. The students got so pumped singing this song in the 4th quarter of the Iron Bowl last year that they actually have not played the song since. But fans aren't giving up yet in hopes the song will return next season!
7. Shakers
If you've ever attended an Alabama football game or even just watched one on TV, you have witnessed the "power" of the shakers. The shakers are the crimson and white pom poms that it seems every Alabama fan brings to a game. What makes these so special is that the fans know when and how to use the shakers. Besides just the usual shake of the shaker when a good play is made, fans also know how to use them to go along with the beat of our fight song, "Rammer Jammer, "and other the other Alabama songs played throughout the game. But the most exciting time to use your shaker is before kick off and punt returns when everyone is swinging the shakers in a circular motion yelling "Roll" until contact is made with the ball and you give one final shake and scream "Tide Roll"! 
8. Walk of Champions
The best way to get excited to watch Alabama football is to witness the Walk of Champions. The Walk of Champions happens two hours before every home game. The Crimson Tide rides up in buses to the front of Bryant-Denny stadium where fans are aligned on the two sides of the pathway. Nick Saban leads the team to the front of stadium as fans cheer them on and wish them good luck. 
9. Roll Tide 
What would Alabama football be without a few (or so many I lost count) "Roll Tides after the team achieves a first down, when the fans are happy with a play, or just to say hello!  
10. Million Dollar Band 
Alabama's band is one of the coolest traditions of Alabama football. The band comes together during the pregame show to form their own version of Big Al (our elephant mascot) that even goes as far as to make elephant noises. The Million Dollar Band also plays our schools fight song, "Yea Alabama", after every touchdown the Tide scores. The band contributes to the electric atmosphere of the stadium throughout the entire game. 
Back to the Alabama Crimson Tide Newsfeed
Related Topics: Alabama football traditions, Alabama Crimson Tide Football