The Alabama Crimson Tide have another quarterback battle on their hands this spring after losing starting QB Jake Coker after he helped led them to a College Football Playoff Championship. With Coker now gone, Alabama will turn to a new starting QB for the third consecutive season. There's limited experience among the contenders, but talent as well. Below, we've broken down the four main contenders for the starting QB job and predicted a winner.  
Redshirt freshman Blake Barnett
Barnett might have the most talent of any of the players fighting for the job. A former five-star recruit, Barnett was the nation's top rated pocket passer two years ago. Alabama could have an incredible talent on their hands, if he's ready to play this season. At 6-foot-5, 200-pounds, Barnett needs to bulk up but has room to grow. He showed flashes in practices last year, and although he has an odd throwing motion, Barnett has the ability. 
Redshirt junior Cooper Bateman
Bateman doesn't have the arm talent a few of the others do on this list, but he's the only one with real game experience. Bateman threw 291 yards last year, completing 71 percent of his passes. He received a start against Ole Miss, but threw one TD against two picks before being pulled. However, that experience gives him an advantage over the other players on this list. If Alabama starts the former four-star recruit and Top 100 player, they need to use his rushing ability more. 
Redshirt sophomore David Cornwell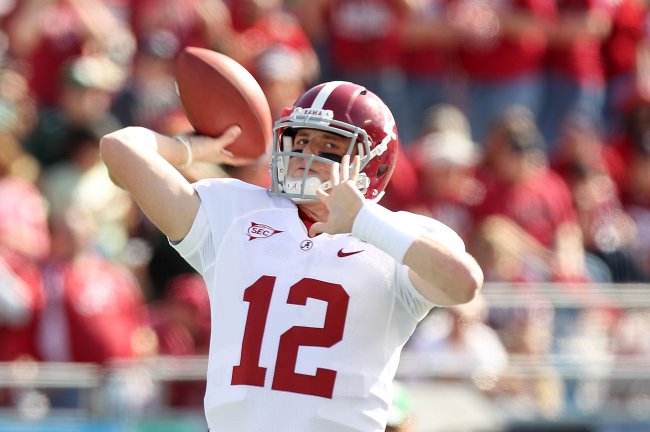 Cornwell was a former top-100 recruit and a four-star player. But, he was behind Bateman and Coker last season. Cornwell seemed to suffer from some confidence issues after struggling early last fall in camp, but there is talent there. He will at least have a shot at winning the job. 
Freshman Jalen Hurts
Hurts enrolled early, and is a true dual-threat. A four-star recruit, he was ranked lower than the other three on this list. Hurts likely has the best running ability of the QBs, an asset that could help him. While enrolling early gives him a shot at the starting gig, he'll likely finish fourth in the QB derby. 
Winner: Barnett
This decision is two-fold. Head coach Nick Saban said Bateman leads the group right now due to that experience, and that will keep him at the forefront of the conversation into the start of the season. However, Barnett gives Alabama a chance to have a QB for several years, and the coaching staff knows it. While there will be growing pains, I expect these two to split time similar to how Bateman and Coker shared snaps last year during the first few weeks. Eventually, Barnett will claim the job outright because of his superior talent level.
Back to the Alabama Crimson Tide Newsfeed
Related Topics: SEC Football, NCAA Football, Alabama Crimson Tide Football, Blake Barnett, Jalen Hurts, David Cornwell, Nick Saban, Cooper Bateman