The Alabama Crimson Tide are searching for a new defensive coordinator after Kirby Smart accepted the head coaching job at Georgia, though he will stay on staff for the College Football Playoff. Smart has been the defensive coordinator at Alabama since Nick Saban took the head coaching job in 2008, so who will the Tide target to replace him? Here are the top 5 candidates:
5) Paul Rhoads, former Iowa State head coach Rhoads was fired as Iowa State's head coach after six seasons with the team, but he's now one of the most sought-after defensive coaches available. He served as Pitt's defensive coordinator from 2000-2007 and as Auburn's DC in 2008 before taking the Iowa State job. Rhoads is expected to end up at Ohio State or even Auburn, but expect Alabama to at least gauge his interest and the potential fit.
4) Ruffin McNeill, former ECU head coach

McNeill was surprisingly fired as ECU's head coach after a 5-7 season this year, though he had posted three straight winning seasons beforehand. He has extensive experience as a defensive coordinator, making his mark at Texas Tech from 2008-2009 before taking the ECU job. He doesn't have any connection to Alabama, but Saban has shown a propensity to pursue quality coordinators that have head coaching experience.
3) Geoff Collins, Florida defensive coordinator
Collins previously worked under Saban as Alabama's director of player personnel and showed his recruiting prowess while serving as Mississippi State's defensive coordinator. He then led Florida's defense this past year, which was one of the top units in the country. 
2) Mel Tucker, Alabama secondary coach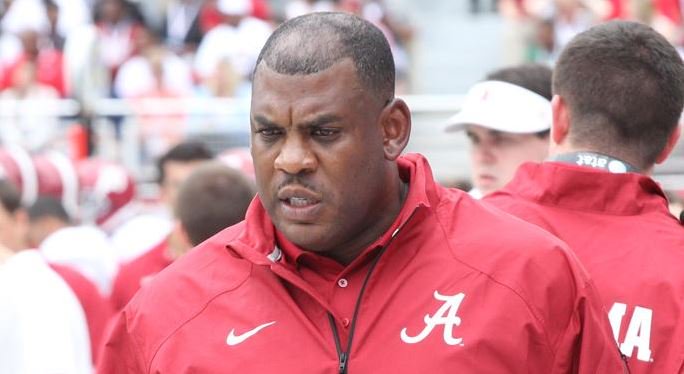 Tucker was a defensive coordinator for several teams in the NFL from 2008 to 2014, also serving as the Jaguars' interim head coach for a brief time. Alabama got him as a secondary coach after a disastrous stint as defensive coordinator of the Bears, but his NFL experience is a big plus. Don't be surprised if he gets a promotion quickly.
1) Jeremy Pruitt, Georgia defensive coordinator
Smart isn't expected to retain Pruitt as Georgia's defensive coordinator, and he's indicated he'd love to return to Tuscaloosa to be the DC. He was on the staff at Alabama from 2007-2012 before spending one year as defensive coordinator at both Florida State and Georgia, winning national championships in 2011, 2012, and 2013. He's the heavy favorite to get the job, and we would be shocked if Saban hired anyone else.
Follow our Alabama Crimson Tide news page for all the latest Alabama football news!
Back to the Alabama Crimson Tide Newsfeed
Related Topics: College Football, Paul Rhoads, SEC Football, NCAA Football, Alabama Crimson Tide Football, Kirby Smart, Jeremy Pruitt, Nick Saban, Ruffin McNeill, Mel Tucker, Geoff Collins