In our humble opinion, Tuscaloosa is absolutely a world-class college town. The atmosphere, the scenery and the people make it one of our favorite places to catch a college football game, but the stellar restaurants in the area are the icing on the cake.
With help from our @ChatTide twitter followers, we've picked out the seven best restaurants to visit while you're in town for a Crimson Tide football game:

Jim 'N Nick's BBQ
Address: 305 21st Ave, Tuscaloosa, AL 35401
Phone:(205) 469-2060
Online: Official Site
When we asked about the best restaurants in Tuscaloosa, we heard you guys loud and clear:
@ChatTide Jim n Nicks for sure!!!!!

 

 

— Shannon Watt (@swatt1126) July 14, 2014
Although Jim N Nick's has multiple locations, we're still okay with including it here because they get it. Although they've only been in town for two years, these guys understand what barbecue and southern food are all about, and the traditional, yet clever menu has something for everyone. We highly recommend the pulled pork and the smoked ham...we don't know they do out in that barbecue pit, but it seems like borderline magic.  
City Cafe
Address: 408 Main Ave, Northport, AL 35476
Phone:(205) 758-9171
Online: Facebook  
 

@ChatTide @TidalTowel city cafe is THE restaurant

 

— Jake Levin (@Jake_Levin) July 14, 2014

 
City Cafe came to us highly recommended, and although we haven't managed to get over there ourselves yet, we've heard enough incredible reviews to feel comfortable including it here.
The breakfast is reportedly DYNAMITE, and multiple people have raved about the rolls and sweet tea. If you want REAL southern food in a homestyle, friendly atmosphere, this is the place to be...or so we've heard.

Nick's In The Sticks
Address: 4018 Culver Rd, Tuscaloosa, AL 35401
Phone: (205) 758-9316
Online: N/A
Okay, so it's official title is "Nick's Original Filet House", but to everyone we talked to, it's Nick's in the Sticks. Why? Well, it's out in the sticks. Don't worry though - it's worth the drive.
This down-home, unpretentious steakhouse is home of both the most affordable filet mignon we've ever seen (a small, delicious cut for $9.50) and what might be the town's most famous cocktail. The 'Nicodemus' is served in a styrofoam cup, but don't let appearances fool you - it shouldn't be taken lightly.
@ChatTide @TidalTowel Archibald's. I know it's in Northport. In Tuskaloosa it's Nicks in the sticks. Tuskaloosa spelling is the old way.

 

 

— Danny Chesnut (@doc35960) July 14, 2014
Archibald's Bar-B-Que
Address: 1211 MLK Jr. Blvd, Northport AL 35476
Phone: (205) 345-6861
Online: N/A
Archibald's looks like something straight out of a movie or a magazine: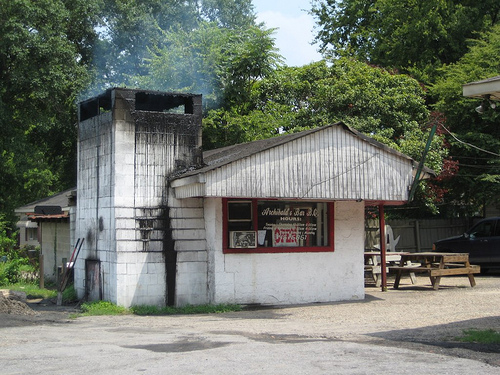 Little more than a shack and a few tables out in Northport, Archibald's gives any barbecue in the nation a run for its money. Seriously - we aren't kidding.
When you talk to Tuscaloosa natives about their favorite restaurants, they get pretty excited...but if you talk to them about Archibald's, they absolutely lose their minds.
Owner and operator George Archibald, Jr. started working here at the age of 7, when it belonged to his father, and he's spent the last four decades perfecting his craft. Reportedly one of Bear Bryant's favorites, Archibald's is a local landmark - don't miss out.
T-Town Cafe
Address: 500 14th St, Tuscaloosa, AL 35401
Phone:(205) 759-5559
Online: Official Site
 

Some good ones but Ttown Cafe dominates the opponent Aight! "@ChatTide: Bama fans: what's your favorite restaurant in Tuscaloosa? #RollTide

 

— Greg Kiel (@jgkiel) July 14, 2014

 
When we close our eyes and think of "American Food", the menu from T-Town Cafe is what shows up. With a fantastic selection of diner classics and southern favorites, this place knows what's up. If you're in the mood for something tasty, classy and unpretentious, T-Town Cafe is just what the doctor ordered (assuming that we're your doctor).
Dreamland BBQ
Address: 5535 15th Ave E, Tuscaloosa, AL 35405 OR  101 Bridge Ave, Northport, AL 35476
Phone: (205) 758-8135
Online: Official Site
With locations in Tuscaloosa and across the river in Northport, this temple to all things barbecue is a mandatory stop on your T-Town tour.
@ChatTide @TidalTowel what? Dreamland BBQ. Duhh. 

 

 

— Hardyyy (@dreamHard_) July 14, 2014
Opened by John "Big Daddy" Bishop in the same year that Bear Bryant took over on the sidelines, this down-home rib joint is full of Alabama pride and Tuscaloosa history. For the authentic experience, make sure you order ribs and a sweet tea...heavenly.
Rama Jama's
Address: 1000 Paul W Bryant Dr, Tuscaloosa, AL 35401
Phone: (205) 750-0901
Online: Facebook
Rama Jama's got a ton of love on Twitter, and from our own experience, that love was richly deserved.
 

@ChatTide too many great places to choose.........let's say @npdreamland and @RamaJama96

 

— Tidal Towel™ (@TidalTowel) July 14, 2014

 
We were absolutely floored by how much Tide memorabilia they've managed to pack into one restaurant. See for yourself: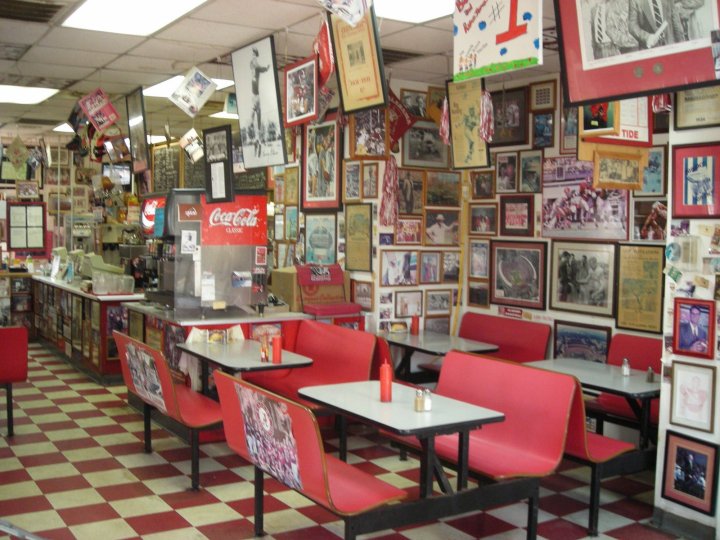 The food is world-class too - there's a standard diner menu to choose from, but there's nothing standard about how it tastes. You can't go wrong here, but we highly recommend the breakfast food and the milkshakes...we're getting hungry just thinking about 'em.
Did we leave off your favorite spot? Let us know in the comments or over at @ChatTide, and we'll make sure to show it some love in our next article.
Back to the Alabama Crimson Tide Newsfeed