Ed. Note: With the Iron Bowl coming up this Saturday, we reached out to one of our favorite Alabama fans to find out what the storied matchup means to her. Phyllis Perkins, or 'Phyllis from Mulga', has become one of the most well-known callers on the Paul Finebaum show thanks to her fiery passion for the Crimson Tide. Earlier this week, ESPN named her one of the 'First Ladies of the Iron Bowl'. 
Q: When did you start calling into the Finebaum show?
A: It was around '93, we won the national championship in '92, which was January of '93. I just went to the kitchen one day and I was about to load the dishwasher, the radio was on, and I heard Gene Stallings' name, and I told my husband I just thought the world of [Stallings]. I asked him, 'Who is that on the radio?' And he said, 'Some man named Paul Finebaum.' I said, 'What is he talking about? How dare he talk about coach Gene Stallings like that, is the man nuts?' And he said, 'I don't know. You need to call him and tell him that's what you feel.'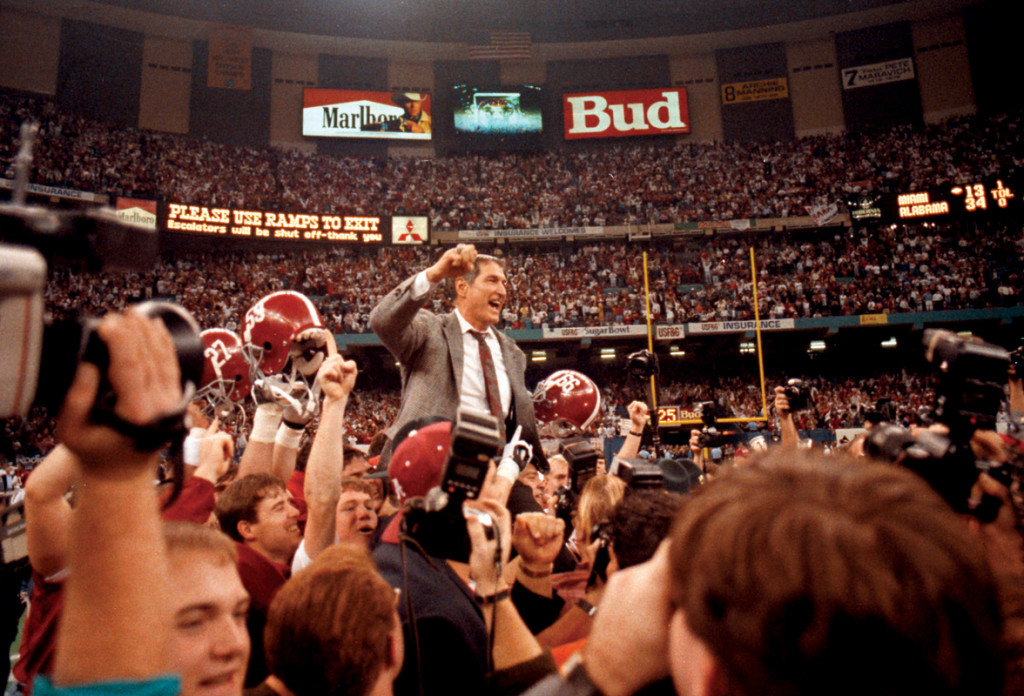 So I went stomping in there, and I picked the phone up and I called him and just as he answered, I said, 'Why? What are you saying these things about coach Gene Stallings? I don't know you. I don't care who you are, but I do care what you say when you talk about a dear friend of my family's and myself.' And he was going, 'Hold on, hold on.' I said, 'No, I'm not going to hold on. You hold on.' And I just tore into him. I don't remember what I said, but I tore into him, and hung up the phone.
Two months later, my husband was listening to the same radio show, but this morning Mr. Forney was on there, who was my buddy, my friend. I loved him so much, John Forney [Forney, a legendary Alabama sportscaster, spent 30 years with the Alabama Radio Network]. The phone rang, it was Bob Lochamy [Finebaum's former sidekick], and he said, 'May I speak to Phyllis please?' I said, 'This is Phyllis.'
'Oh my God. Phyllis, we have been looking for you for two months,' he said. I said, 'Who's been looking for me for two months? I've been right here.' He said, 'Paul, Paul Finebaum.' I said, 'Nope, not getting into it with him again.'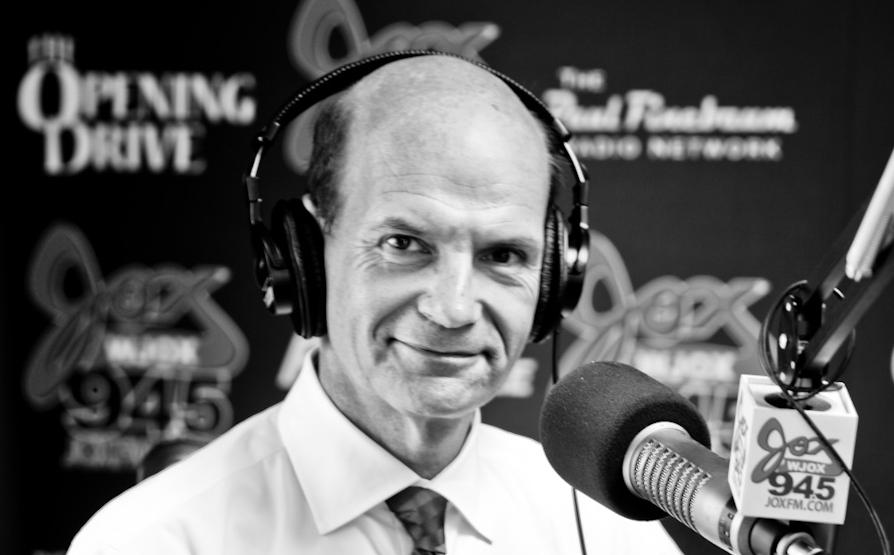 He said, 'Listen, so many people can't stand him - when you call in, if he says anything out of line, you jump him and put him in his place. Would you just call the show? If it's just every now and then, would you just call it?' I said, 'Is he on there now?' He said, 'Yeah.' I said, 'Well put him on.' And that was the beginning of it."
For some reason people liked me, and more and more people were calling Paul and saying, 'I like Phyllis. I hope she calls in again.' I thought, that's awfully nice. I'm going to call in because they like me."
Q: What gets you the most fired up on the Finebaum show?
A: Other than CowTurd, Kanell, and those that poke at Alabama all the time [Phyllis has long-standing issues with Colin Cowherd and Danny Kanell, two ESPN radio personalities known to take shots at Alabama], the thing that upsets me the most is when an Alabama alum will either put it on Facebook, or Twitter, or call, and try to make it seem like they don't claim me as an Alabama fan, that I don't represent the University of Alabama.
I was just trying to pull for my team, and I got to thinking about what the guy said. He said I don't need to be calling in anymore, Alabama fans hated me, they hated me for what I stood for, and I was an embarrassment to the entire university. I got on that phone, and I told Paul I had something to say to that Alabama alum.
I said, 'I want to tell you something, you can be an alum, you could have graduated at the top of your class, that don't matter to me. But if you don't have common sense, then you're nothing. It takes a little bit of common sense to get through this life, a little bit of humility, a little bit of compassion.'
'How dare you, because you weren't just talking about me - you were talking about all of the Alabama fans who couldn't afford it, who couldn't get a scholarship and come to the University of Alabama no matter how bad they wanted to. You put us down because of that. You are uppity. People like you are what Alabama should be disgusted and embarrassed about. You call yourself an alum and then get on the radio and talk to masses of Alabama fans and say if they didn't graduate, then they don't represent Alabama...how can you say that?'
Q: How did you become so passionate about Alabama football?
 A: I had five brothers and no sisters. When we were all little, my dad never missed an Alabama game. He had this great, big old radio - it looked like a piece of furniture - and nothing would sound any better, or any louder, and he would listen to the football games on it.
Mr. John Forney would call him. He was his favorite announcer and wound up being mine. Daddy would sit me up on his knee, my five brothers around me, and he hollered 'Roll Tide. Roll Tide, Phyllis. Come on boys, Roll Tide. ' That became a fixture in our house in the fall. You didn't have a whole lot of things to do back then like kids do nowadays. We loved our daddy so much, and when we saw him happy, we were happy, and eventually that happiness for Bama rubbed off on us.
When [my father] died, we knew we couldn't be anything but Alabama fans. We carried that on for his sake. It was a tradition. So, when people say it's a winning tradition at Alabama, it was really a tradition in my family.
He was only 44 when he died, and it broke our hearts. It broke our hearts. But that's when I told my brother at the funeral, I said, 'Well somebody's got to take daddy's seat at the next game.' And he said, 'Well we'll all do that.' And from then on, it was born.
Alabama will always be a dynasty to me. That's something that CowTurd and Kanell can never take away from me.
 Q: What do you do when football season is over?
A: I talk about the upcoming A-day game. I talk about the practice and who we think is going to be in line for next season. Paul will bring in other subjects, and usually if it makes me angry I'll call in.
Alabama football never completely leaves you. It's there 24/7 and 365 days a year, as far as I'm concerned.
Q: When you aren't watching Alabama football or listening to the Finebaum show, what do you like to do in your free time?
A: I like to read. I like to play games on the computer. I like to write, there's things that I write, and I keep a journal, and I've had it for years. I like to paint. During the summer, I like to get out and barbeque and go visit my family and friends and things like that. It's plenty fun for me. I have a blessed life.
Q: If you could change one thing about college football, what would that be?
A: I would put it back to where it was. I'm really just not real hip on that committee. I just wish the BCS would have been left alone - I just wish it was the way it used to be, I miss that. But I could be saying that because this is so new, and I've got to really wait to see if it works itself out. Even though the committee has Alabama at number one, a couple of weeks ago I called and trounced them because they left Bama out [of the top four].
I miss the BCS, I really do...I just felt like whatever teams got to the #1 and #2 places, they earned it. They earned it. No matter who they were, they got there because they earned it. That's why I'm so proud of Bama, because they earned it so much.
Q: Since it's Iron Bowl week, what's the first thing you think of when you hear the word Auburn?
A: Right now, it's worry. I'm a little worried. And, I'll tell you why. I've seen so many Alabama-Auburn games. I know that Auburn is going to come in there Saturday and they're going to feel like they have nothing to lose, and that's going to drive them, that's going to give them momentum, do whatever they have to, to score those points and beat Alabama. But on the other hand, Alabama is going to do the same thing. You're going to see two teams with desperation in their eyes and in their body language. You're going to see a knock-down, drag-out, and I don't think it's going to be a blowout. I think it's going to be within seven points.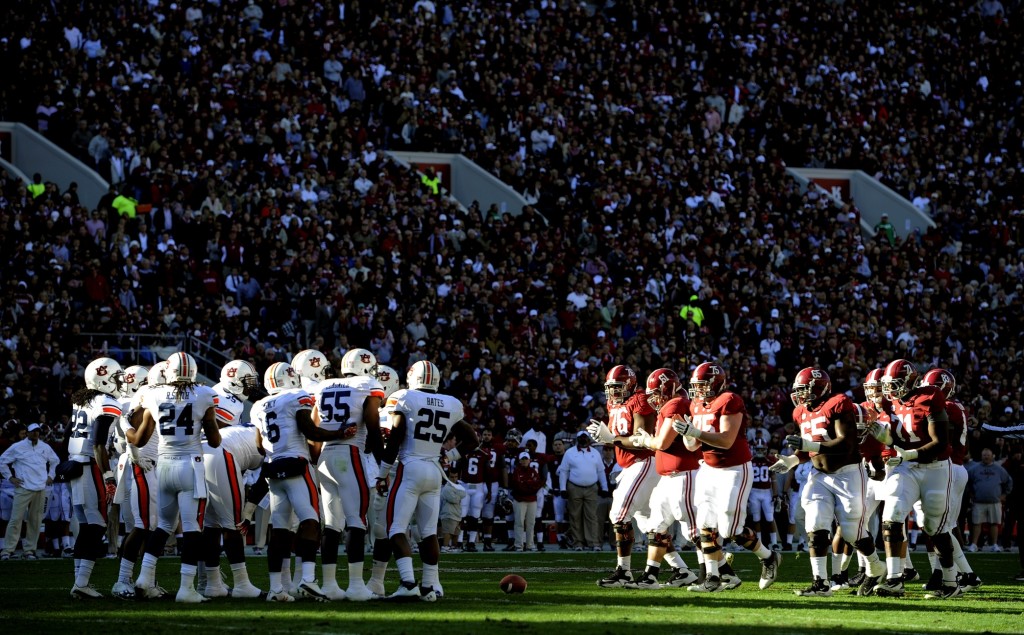 Lord, if there's anything I can do to help them, I'll come down there and run across the field in an elephant outfit. It doesn't matter. Just whatever I can help them do. The team isn't just a team. I love our players.
Q: What's your prediction for the final score?
A: I don't know why, but my gut tells me 28-24 (Alabama), I don't know why, but that's sticking with me...that is a scary score.
This Saturday is going to be the epitome of a college football game. Auburn is going to be ready to play, and when they take that field they're going to forget about every other team they've ever played. Alabama is going to do the same thing. That's what you call the Iron Bowl. These two teams are going in there. Auburn's going in there with nothing to lose. That makes them more dangerous. Alabama's going in there with something to prove. That makes them dangerous....this is going to be a knock-down, drag-out game.
Phyllis Perkins isn't just Alabama's most passionate fan - she's also a cancer survivor and grandmother of six. You can hear her regularly on the Finebaum show, which is broadcast Monday through Friday from 2-6 on ESPN Radio and Tuscaloosa's Tide 99.1. 
Back to the Alabama Crimson Tide Newsfeed