By Ashley Kenney, Chat Sports Campus Ambassador at University of Alabama
His jersey may identify him as #2, but we all know that the Heisman voters should rank Derrick Henry #1 next month. Here are 8 resons why he should win the Heisman.
1. Just look at him
Henry is a physical specimen. At 6'3" and 242 pounds, who would want to have to try to tackle that guy? With the body of an NFL linebacker it's no wonder he wears the opposing defensive players out!  
2. He's got some serious speed
Derrick Henry is exceptionally fast for his size. He records a 4.50 40-yard dash, and there is no catching up to him after he has finished plowing down the defenders. 
3. Even though he didn't get the same pre-season attention as some of the other Heisman contenders, Henry has consistently proven himself
In head-to-head games against other Heisman frontrunners Henry's performance on the field has completely overshadowed the competition.  Just ask anyone who watched the LSU or Mississippi State games. 
4. He thrives in high-stakes games
When the pressure is on, Henry delivers. Ever since his breakout performance in the 2014 Sugar Bowl against Oklahoma you can consistently rely on Henry to perform. In 6 games against ranked teams this season he has rushed for 1,458 yards and has been essential to Alabama's ascension back into the College Football Playoff standings. 
5. His work ethic is ruthless
Henry's off-season workouts could make just about anyone's training look weak. If you haven't watched the videos of him pushing an F-150 around a track or squatting 500 pounds go do that now.
6. He sets records 
Stats don't lie, and Henry's stats this season are off the charts. He has already broken multiple records and is on pace to set even more by the end of the season. Last week Henry became the first running back in Alabama history to post consecutive 200-yard rushing games. His three games this season rushing for over 200 yards makes him one of only two Alabama players to do so in a single season. This past weekend was also his 15th straight game scoring a rushing touchdown, allowing him to pass Tim Tebow for the longest streak of consecutive scoring games by an SEC player in the past 20 seasons. 
7. His character matches his talent
He doesn't showboat or have off-the-field issues making news headlines each week. He stays focused on his sport and doesn't let outside distractions deter him from success. 
8. No one can celebrate a win quite like Henry and Saban can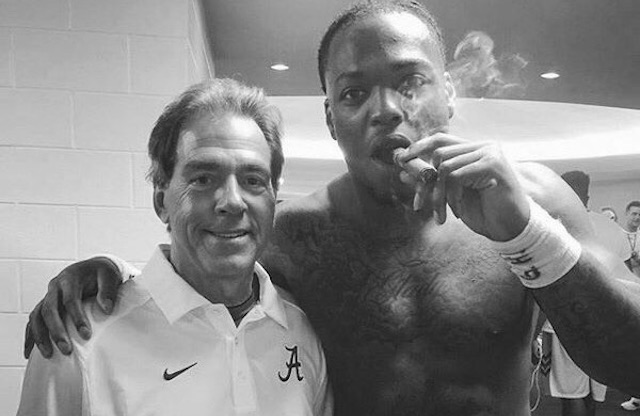 Back to the Alabama Crimson Tide Newsfeed
Related Topics: Derrick Henry, Nick Saban, Alabama Crimson Tide Football News