Auburn may have escaped by the hairs of their tails against Jacksonville State on Saturday, but that doesn't mean that Alabama fans are going easy on their Iron Bowl blood rivals. Here's the 5 Best Bama Fan Reactions To Auburn's Escape Against JSU.
5. Clean yourself, War Eagle.
As much that's prolly in their pants....I dont think they can move RT @one_illuminati: I'm surprised Auburn fans didn't rush the field

— Lurk Nowitzki (@BleesusCrice) September 12, 2015
4. All he needs is a heel click.
Bwahhaha RT @BamaSlymm Hey Auburn, us BAMA fans looking at y'all like.... pic.twitter.com/T05M6idwkm

— Griselda Escobar (@CarmillaLusta) September 12, 2015
3. Child, please.
RT @Righteously_T70: And Auburn fans still don't think they lucky... Believe what you want pic.twitter.com/1FXM4GxKYe

— BAMA (1-0)|PIT (0-1) (@JRocc205) September 12, 2015
2. We do that outside...
When Auburn fans say they gonna be great this year... http://t.co/2Qfq4y8IPL

— Lucchi (@Lucchi4k) September 12, 2015
1. Truth.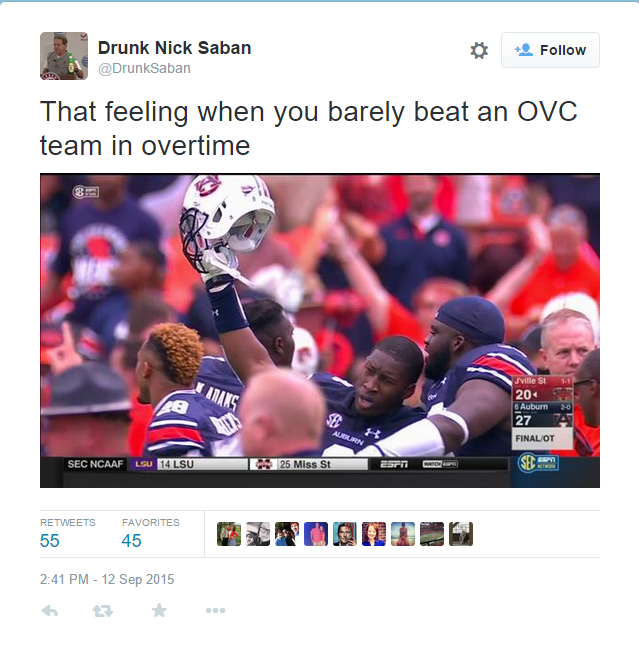 BONUS: Auburn's welcoming party after Saturday's game...
Back to the Alabama Crimson Tide Newsfeed
Related Topics: Alabama Crimson Tide, Auburn Tigers