The Alabama Crimson Tide won the College Football Playoff chase year, and plan on staying at the top of the SEC and college football in 2016. For Alabama's repeat dreams to come true, the Crimson Tide need a few players to have breakout seasons. 
Breakout seasons happen every year in college football. Sometimes, the player in question shows flashed the previous season and takes the logical step forward. Sometimes, the player comes out of nowhere to make a massive impact. So who will be the Alabama Football breakout players in 2016? We've put together four of the most likely candidates below, although there are a few other players who could end up breaking through this year. 
4. WR Robert Foster
Calvin Ridley gets all the love, and while he's an incredible player, don't overlook Foster. A former five-star recruit (get used to seeing that), Foster's sophomore season was limited by injury. But in the roughly two and a half games he appeared in, Foster had 10 catches for 116 yards and two scores. Foster has plenty of talent, and he should make good on the potential he showed last year. 
3. CB Kendall Sheffield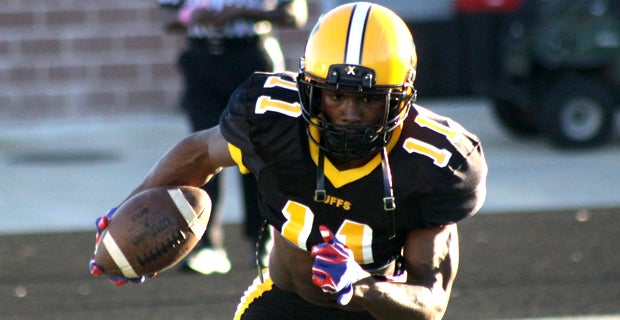 After coming into Alabama as the No. 20 overall recruit last year, Sheffield redshirted. Minkah Fitzpatrick and Marlon Humphrey played well last year, but Sheffield has the talent to earn snaps. Even if he ends up being the team's No. 3 CB, Sheffield should perform well. Now that he's acclimated to playing at Alabama, his talent will shine. 
2. RB Bo Scarbrough/Damien Harris Yes, we're totally cheating by including both Alabama RBs. But Derrick Henry is gone and the Crimson Tide are looking for a new feature back for their run-first attack. Both Harris and Scarbrough were five-star recruits, with Scarbrough the one many expect to land the starting job. But don't rule out Harris, who was better in the Spring Game and saw more carries last season. Whoever starts, or even if they both split carries 50-50, should have a big season behind the Alabama O-Line. 
1. DL Da'Shawn Hand 
Hand was the No. 5 overall recruit just two years ago. But he's played sparingly at Alabama, as he was stuck behind several future NFL players. Now that players like A'Shawn Robinson, Jarran Reed and Darren Lake are gone, it's time for Hand to shine. He recorded 6.5 tackles for loss and three sacks in limited playing time last year, but he'll be a full-time starter this year. Don't be surprised if Hand's play launches him into first round status for the NFL Draft. 
Back to the Alabama Crimson Tide Newsfeed
Related Topics: Kendall Sheffield, Da'Shawn Hand, Robert Foster, Damien Harris, Alabama Crimson Tide Football Rumors, Bo Scarbrough, Alabama Crimson Tide Football News