Alabama football came up two wins short of a College Football Playoff championship last season, but there's a very good chance that the talent collection in Tuscaloosa this year will be able to clear that hurdle in year two of the CFP. Here's 3 Reasons Why Alabama Can Win The College Football Playoff.
1. A Reloaded Offense
Alabama's cache of #1 recruiting classes is going to take center stage in 2015 -- especially with so much impact talent in need of being replaced. The onus falls on quarterback Jacob Coker to become the superstar his talent level says he can be, but there's plenty of blue chip talent both in the aerial game (Chris Black, Robert Foster, Calvin Ridley) to ease him along in that process. Add in the lethal backfield tandem of Derrick Henry and Kenyan Drake, and you have the recipe for the most potential offensie attack in the SEC and perhaps the nation.
2. Front Seven Fireworks
The Tide's defensive line is big, deep and extremely talented with returning starters A'Shawn Robinson, Jarran Reed and Jonathan Allen leading the charge. In the linebacking corps, Reggie Ragland turned down a sure ticket to the NFL to come back and lead a unit that also features one of the biggest hitters Tuscaloosa has ever seen, top recruit Reuben Foster. This front seven is prime time through and through, and that'll be huge as the secondary finds itself in the wake of the departures of starting safeties Landon Collins and Nick Perry.
3. The Nick Saban Effect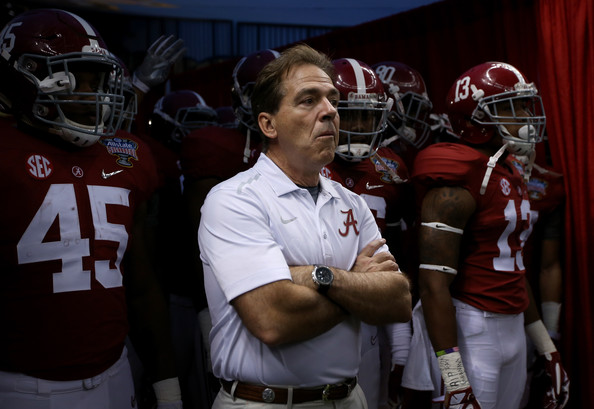 Critics of Nick Saban usually miss the point. His sometimes gruff exterior in media sessions is a calcuated facade which belies the respect he both commands and gives to his players in private one-on-ones. Yes he's a taskmaster sometimes, but he's one of the most successful taskmasters to ever step on a college football sideline. Results don't lie, and Saban's seven-straight double-digit win seasons and three national championships are reason enough to at least pencil the Tide for a berth in the College Football Playoff. Once he gets there, however...don't underestimate Saban's "eff you" motivation after last year's semifinal loss.
Follow our Alabama Crimson Tide team page for the latest Alabama football news!
Back to the Alabama Crimson Tide Newsfeed
Related Topics: College Football Playoff, NCAA, Nick Saban, Jacob Coker, Kenyan Drake, Derrick Henry, Alabama Football, Alabama Crimson Tide