The Alabama Crimson Tide lost as many impact players to the NFL Draft as anyone in the country, but as we've come to expect with this team under head coach Nick Saban, a new crop of talent will step up and be just as dominant. Here are three lesser-known players who will step up and have breakout seasons for the Tide:
RB Bo Scarbrough
Obviously, no one can replicate the sheer dominance Henry exhibited last year on his way to winning the Heisman trophy, but Scarbrough is ready to step into the starting role and make a big impact. He missed most of his freshman season with a knee injury, yet his combination of speed and power at 6'2" and 240 lbs. give him all the makings of a future star. His job will also be made easier as Alabama will have one of the best of offensive lines in the country (again). Don't be surprised when Scarbrough becomes a household name this fall.
CB Marlon Humphrey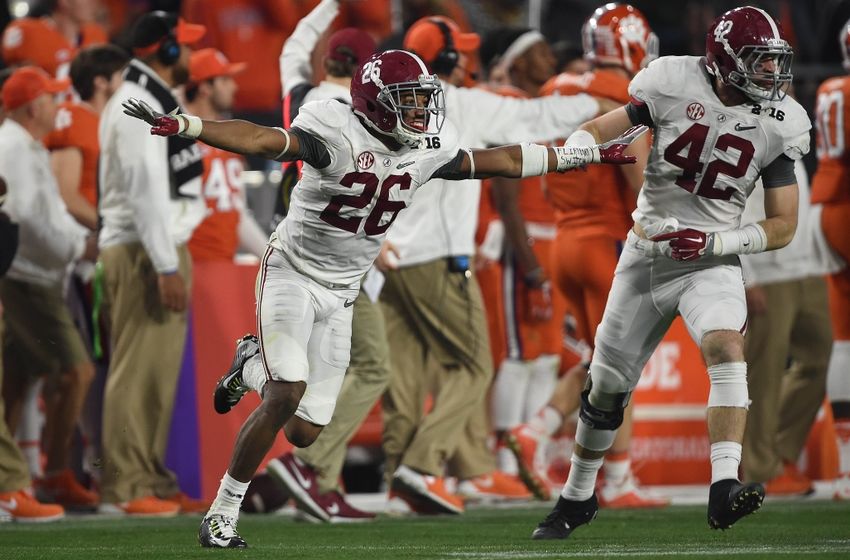 Minkah Fitzpatrick stole most of the headlines as Alabama's top freshman cornerback after his outstanding performance against Texas A&M, but Humphrey is every bit as good as his classmate. At 6'1" and 195 lbs, Humphrey has the size to give receivers problems - and his blistering speed means he never leaves their hip pocket. It took him a while to make a real impact as he got more comfortable and gained experience, and he's poised to become a legitimate lockdown corner this season.
WR Calvin Ridley
Are we cheating by putting Ridley on here? Maybe, but I expect him to make the leap from being a good receiver to putting up Amari Cooper-like numbers as a sophomore in 2016. He finished last year with nearly 90 catches and over 1,000 yards despite a slow start to the season, and he only got stronger as the season wore on. Imagine what he can do with a full offseason in Tuscaloosa as the clear-cut go-to guy.
Back to the Alabama Crimson Tide Newsfeed
Related Topics: SEC Football, NCAA Football, Alabama Crimson Tide Football, Calvin Ridley, Marlon Humphrey, Bo Scarbrough