We're closing in on the end of the 2016 college football recruiting cycle -- an exciting time for ACC Football programs as they piece together the dynasties of the future. Before we look ahead to the incoming freshmen, we thought it'd be fun to take a look back at one of the most interesting recruiting classes from the conference's recent history. Let's get started with our Where Are They Now? The Top 10 ACC Football Recruits From 2009.
(Overall Yahoo! Sports national recruiting ranking in parentheses next to team name)
Boyd finished his career at Clemson as the all-time program and conference leader for career passing yards (11,904) and passing touchdowns (107). Drafted in the sixth round of the 2014 NFL Draft by the New York Jets, Boyd has yet to make a NFL team's regular season roster -- cut by both the Jets (2014) and Steelers (2015) during the preseason.
He signed on with the Winnipeg Blue Bombers of the CFL this past September, but was cut a month later. He latched on with the league's Montreal Alouettes shortly after.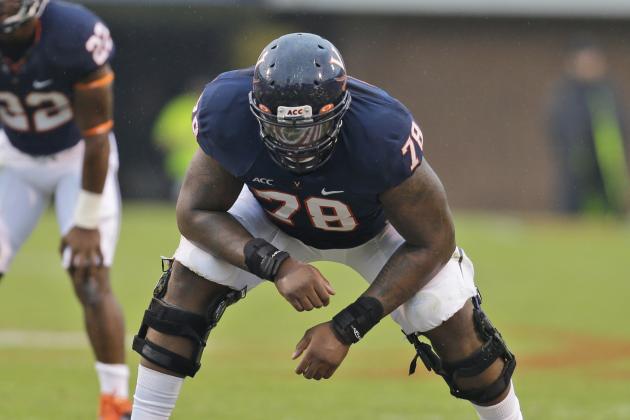 Moses earned third-team All-ACC honors in his senior season at UVA, before being drafted in the third round by the Washington Redskins in the 2014 draft. He's played in 24 games with the Redskins over two years, starting 17 and beating out celebrated #5 2015 pick Brandon Scherff for the starting right guard spot out of 2015 training camp.
Boyd never did break out with the Tar Heels as a consistent threat, although he did finish with 13 career touchdowns. Last we heard of Boyd, he was one of several overlooked collegiate football players doing work in the fledgling National Rugby Football League.
Named the 2011 ACC Offensive Player of the Year, a promising career as a first-round 2012 draft pick with the New York Giants was cut short after suffering spinal stenosis in Week 5 of the 2013 season against the Philadelphia Eagles. Doctors advised against him playing football again, so he retired in 2014 and decided to return to his track and field roots as a triple jumper.
6. DE Malliciah Goodman (#38, Clemson Tigers)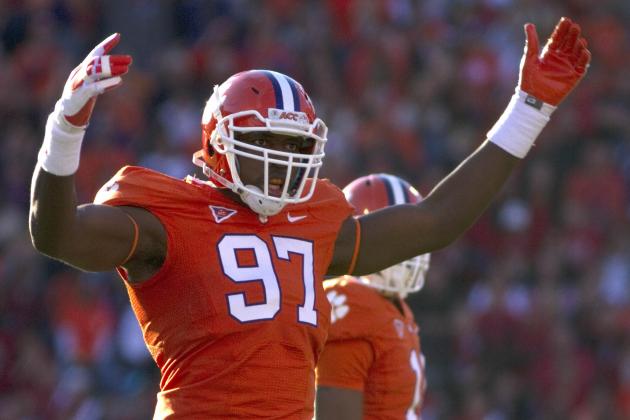 Goodman is tied for second in Clemson football history for games played and third for forced fumbles. He was drafted in the third round of the 2013 NFL Draft by the Atlanta Falcons, and has functioned as a depth options since -- amassing 22 total tackles and two sacks.
Downs admits to "drinking a lot, using drugs" after being deemed academically ineligible to attend Florida State. He also spent six months in prison for grand theft and burglary and was arrested two months before training camp at JuCo Valdosta State due to a DUI. At last check, Downs was a member of the Tri-Cities Fever of the Indoor Football League.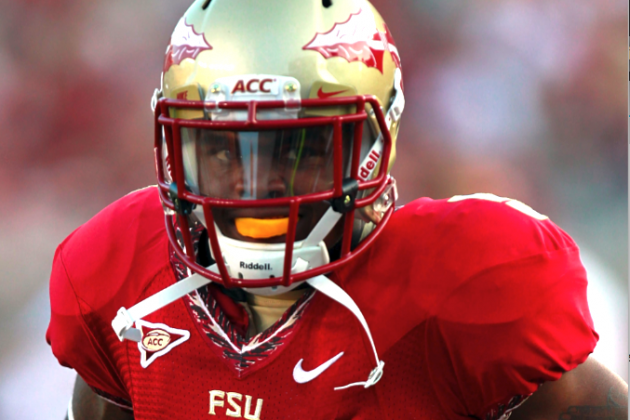 Reid had a banner year in 2009 with the Seminoles as the NCAA's punt return yardage leader and the 2010 Chick-fil-A Bowl Defensive MVP. He was dismissed from the program in 2012 due to a violation of team rules, ending up at the aforementioned Valdosta State.
Reid signed with the St. Louis Rams in March of 2014 on the strength of a private workout, but he was released in the last round of 2014 preseason cuts. He currently plays for the Jacksonville Sharks of the Arena Football League.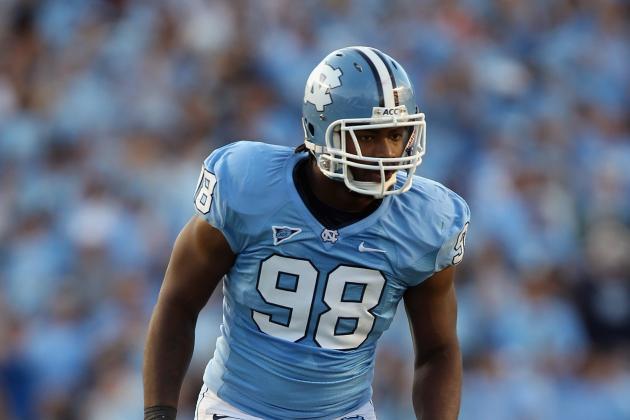 Moss' athleticism and explosiveness vaulted him up big boards prior to the 2012 NFL Draft, but he earned himself a bad reputation from a character and work ethic standpoint and went undrafted. He bounced around before entering the Arena Football League in 2013 where he current suits up for the Orlando Predators.
McDaniel was drafted in the 33rd round of the 2009 MLB Draft by the Milwaukee Brewers, but he decided to try his hand at football instead with the Seminoles. After a stint from 2009-13 with the program, McDaniel went undrafted in 2014 before latching on with the Cleveland Browns' practice squad in August of the same year. He was promoted for one game on October 19, 2014, but he was ultimately released for good by Cleveland at the beginning of this past season.
Armstrong's best year with Miami came in 2010 when he took over a starting role and amassed 66 tackles, three interceptions and a touchdown in 11 games. He was dismissed from the program in July of 2012 due to being dishonest during an internal investigation, resurfacing with the NAIA's Faulkner Eagles.
Undrafted in 2013, Armstrong signed with the St. Louis Rams and has since played for three NFL teams including his current stop with the San Francisco 49ers. He has 44 career NFL tackles, one sack and one interception.
Back to the ACC Newsfeed
Related Topics: Tajh Boyd, Clemson Football Recruiting News