The ACC has made its name as the best conference in all of college basketball, and they are coming off a banner year in which two of the league's 15 teams made the Final Four. This season figures to be another dominant one for the conference, as five teams start the year ranked in the top 20. How will this season play out in the conference? Here is a complete preview for the 2016-17 season:
Projected Standings
1) Duke Blue Devils
Quite frankly, the Blue Devils are loaded with talent at every position and will likely be the #1 team in the entire country for most of the season. Junior Grayson Allen is one of the preseason favorites to win national player of the year, and the nation's top recruiting class — headlined by Harry Giles and Jayson Tatum, projected top five picks in the NBA Draft — gives this team more talent than anyone else in the country. 
We know they have good guard play and plenty of three-point shooting, but they've sured up their weakness in the paint with a plethora of big men. Amile Jefferson got a fifth year of eligibility and will give this group experience, while Giles and fellow top 10 recruit Marques Bolden will give them the added dynamic they've been missing. And, Tatum will likely play some power forward as well. 
Injuries could cause them to get off to a slower start than expected (Giles is recovering from knee surgery, Tatum from a foot issue), but when all is said in done, this team could rival the 2011–12 Kentucky team as one of the best teams of the decade.
2) Virginia Cavaliers
Virginia will look different this year without Malcolm Brodgon, last season's ACC Player of the Year, but Tony Bennett's squad still has plenty left. Point guard London Perrantes and his terrible haircut are back to run the show, and he has been joined by Memphis transfer Austin Nichols, who is a dynamic big man on both ends of the floor. 
We know UVA will have an excellent defense under Tony Bennett. The difference between being a good team and a potential Final Four contender will be if Perrantes becomes more aggressive on offense (which he needs to be) and how much McDonald's All-American Kyle Guy can contribute.
3) North Carolina Tar Heels
Last year's ACC champs and national runners-up lost the heart and soul of that team as both Marcus Paige and Brice Johnson are in the NBA. Joel Berry II, Justin Jackson and Kennedy Meeks are all more than capable of carrying this team, and we saw Berry do that during the NCAA Tournament last season. However, we have been waiting for Jackson and Meeks to have breakout seasons each of the last two years. Is this finally the year they fulfill their potential?
Either way, the Heels are deep, talented and experienced. They'll be one of the better teams in the country, and could be a top five team all season if Meeks and Jackson step their games up.
4) Florida State Seminoles
I am higher on Florida State than most coming into the season, mostly because I love their backcourt. Dwayne Bacon was the highest-rated commit in Florida State history, and put up 15.8 points and 5.8 rebounds per game last season. He's accompanied by Xavier Rathan-Mayes, an excellent playmaker who averaged nearly 15 points per season as a freshman two seasons ago (that dropped to 11.8 last year).
However, what pushes FSU into fourth in the conference is the arrival of freshman Jonathan Isaac, who overtook Bacon's mark and is now the highest-rated recruit (#8 prospect) in school history. At 6-foot-10, his length and athleticism make him a very capable defender on the perimeter (the kind head coach Leonard Hamilton loves), and allow him to get to the rim with ease. Plus, he also has an incredibly smooth jump shot.
FSU is counting on a rotating cast of big men to help make their frontcourt viable, which is all they'll need to be. Guard play usually determines how good a team is (or isn't) in college basketball, and the Noles have one of the most underrated units in the country.
5) Syracuse Orange
Sophomore forward Tyler Lydon is the Orange's best player and can score in a variety of ways, but isn't good enough to carry the Cuse by himself. Luckily, Jim Boeheim's squad is uncharacteristically loaded with talent and depth. After going with a six- or seven-man rotation for the past several seasons due to need, Syracuse can go eight or nine deep with talented players. 
True freshman Tyus Battle is a player to keep an eye on, while transfers Andrew White III (Nebraska) and John Gillon (Colorado State) are also projected staters. The ability to these three players to grasp the system quickly and play well will determine how good Syracuse can be this year.
6) Louisville Cardinals
Defense, defense, defense. With no one in line to replace the production of last year's leading scorers in Damion Lee and Trey Lewis, the Cardinals may struggle offensively — but they will be a defensive juggernaut. 6' 9" Jaylen Johnson, Mangok Mathiang Ray Spalding, Anas Mahmoud and Matz Stockman are all 6-foot-9 or taller (Mahmoud and Stockman being seven-footers), giving them excellent rim protection to go along with their pressing defense.
7) Virginia Tech Hokies
Head coach Buzz Williams has this team on the rise. After finishing last in the ACC two years ago — Williams' first in Blacksburg — the Hokies made the NIT last year. Now, a NCAA Tournament berth seems to be in order for the Hokies.
Forward Zach LeDay is an all-around menace who will be on an All-ACC team at the end of the year. Along with being an excellent defender, he can score from the perimeter and on the block, making him an exceptional stretch-four at 6-foot-7. Point guard Seth Allen is another underrated player who is capable of carrying the scoring load by himself. Led by those two stars and a reliable supporting cast, the Hokies will be in the Big Dance for the first time since 2007.
8) Clemson Tigers
Clemson head coach Brad Brownell is one of the better in-game coaches in the conference and is excellent at developing talent. However, he is not the best recruiter (given, it's hard to be at a football-crazy school like Clemson), and that has led to some holes in this roster.
Combo forward Jaron Blossomgame is a preseason All-American selection and is set to improve his outstanding numbers from last season (18.7 ppg, 6.7 rpg). They just don't have a lot outside of him. Transfers Marquise Reed (from Robert Morris), Shelton Mitchell (Vanderbilt) and Elijah Thomas (Texas A&M, eligible in December) will need to step up and have larger-than-expected roles for the Tigers to make any real noise on the national level.
9) Miami Hurricanes
Miami lost a lot from last year's Sweet 16 team, making this somewhat of a rebuilding year for the 'Canes. Ja'Quan Newton and Davon Reed are being counted on to step up and replace the departed Angel Rodriguez and Sheldon McClellan, but there is no clear candidate to fill the role of center Tonye Jekiri
The lack of a rim protector — plus depleted depth — will lead to Miami taking a step back.
10) NC State Wolfpack
NC State needs a big year for head coach Mark Gottfried to save his job. Despite two Sweet 16 appearances, his teams have largely underachieved in his tenure, losing at lead 11 games in each of his five seasons. That culminated in a 16–17 season last year even though point guard Anthony "Cat" Barber was one of the nation's leading scorers.
The Wolfpack have replaced Barber with star freshman Dennis Smith Jr., who is projected to be the #2 pick in the NBA draft by DraftExpress. He will carry the load a la Barber, but the Wolfpack lack the depth necessary to truly compete. 
11) Notre Dame Fighting Irish
The Irish are coming off of back-to-back Elite 8 appearances, but this group just doesn't have the firepower. Big man Zach Auguste and point guard Demetrius Jackson are now in the NBA, leaving V.J. Beachum, Bonzie Colson Jr. and Steve Vasturia as the lone holdovers from those teams.
All three guys are quality role players, but neither are capable of being stars — and they're only surrounded by other role players on this roster. This isn't one of head coach Mike Brey's strongest teams, but their experience and three-point shooting will give them some a couple of surprising wins.
12) Wake Forest Demon Deacons
I really like what head coach Danny Manning is building at Wake Forest. The only problem is, they're still a year or two away from really breaking through — and the ACC isn't going to do them any favors.
They could get close to tripling last year's two conference wins, led by John Collins, who is expected to have a breakout season. This is still a young team that needs some seasoning, but the talent is there.
13) Pitt Panthers
It came as a shock when Jamie Dixon jumped ship and went to TCU, and he left the cupboard pretty bare for new head man Kevin Stallings. 6-foot-7 forward Jamel Artis (who will play a lot of point guard this season) is one of the better players in the conference, and fellow senior Mike Young can play with anyone. 
Other then those two? There are a lot of unproven, offensively-challenged players. Look for the Panthers to struggle more than expected this season.
14) Georgia Tech Yellow Jackets
Another new head coach in the conference, Josh Pastner will bring his fast-paced brand of basketball from Memphis to Georgia Tech. Unfortunately for him, there just isn't a lot of talent on the roster. Pastner will find ways to take advantage of the athleticism of his players, but it will take a few years of recruiting at a high level (which Pastner knows how to do) for the Yellow Jackets to be competitive. 
15) Boston College Eagles
There is not a lot of good things that can be said about the Eagles. They are unlikely to repeat last year's 0–18 mark in ACC play, but will only get a win or two. Boston College will be one of the worst Power 5 conference teams again this year.
PREDICTIONS
First team All-ACC:
Joel Berry II, PG, North Carolina Tar Heels
Grayson Allen, SG, Duke Blue Devils
Jonathan Isaac, SF, Florida State Seminoles
Jaron Blossomgame, PF, Clemson Tigers
Harry Giles, PF, Duke Blue Devils
Player of the Year: Grayson Allen, SG, Duke Blue Devils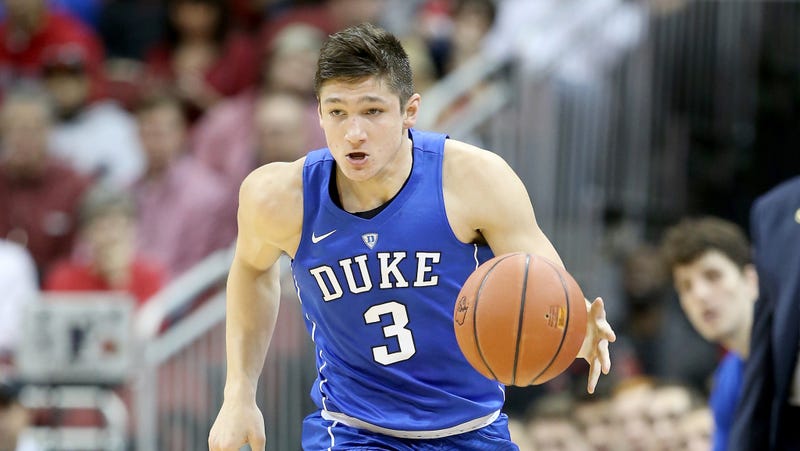 The best player on the best team usually gets this award, and while there are a few freshmen Blue Devils who may have more talent and potential, Allen will be the focal point of Duke's attack. His offensive prowess and leadership, coupled with the Blue Devils' excellent record, will win him this award. Allen is also my pick to win National Player of the Year.
Freshman of the Year: Jonathan Isaac, SF, Florida State Seminoles
Isaac has a very similar skill set to Brandon Ingram, last year's ACC Freshman of the Year. If Florida State does well, as I think they will, Isaac will start to get a lot of attention — but there are also a few other factors working in his favor. All of Duke's freshmen will likely cancel each other out (even if Giles returns to play like the transcendent talent he is), and NC State star freshman Dennis Smith Jr. likely won't have the team success he needs to win. A better-than-expected season will win Isaac the award.
Coach of the Year: Tony Bennett, Virginia Cavaliers
Bennett has won this award in two of the last three seasons, and if he bring Virginia to a second-place finish in conference despite having a lack of proven stars, it'll be hard to give this to anyone but him. Of course, Coach K is a serious contender given how good Duke figures to be, but Bennett gets the nod due to out-performing expectations. Leonard Hamilton may get some votes, as well.
Back to the ACC Newsfeed
Related Topics: Notre Dame Fighting Irish Basketball, ACC Basketball, Virginia Tech Hokies Basketball, Pitt Panthers Basketball, Wake Forest Demon Deacons Basketball, Louisville Cardinals Basketball, Tony Bennett, NC State Wolfpack Basketball, Miami Hurricanes Basketball, Syracuse Orange Basketball, NCAA Basketball, Florida State Seminoles Basketball, Grayson Allen, Duke Blue Devils Basketball, Boston College Eagles Basketball, Jonathan Isaac, Clemson Tigers Basketball, North Carolina Tar Heels Basketball, Virginia Cavaliers Basketball, Georgia Tech Yellow Jackets Basketball