For all of those fortunate enough to catch this week's season premiere of MTV's Jersey Shore, you no doubt witnessed our society jump four or five rungs down the evolutionary ladder.  The Jersey Shore cast hit Italy in all their lack of glory and continued to embarrass themselves, this time on an international scale.  As a result of watching this show I devolved and instantly switched to foraging for nuts and berries for my sustenance.  By this season's 3rd episode, the rest of our society will abandon the agricultural model put forth by our forefathers thousands of years ago.  The entirety of America will be a soon be a patchwork of hunter gatherer clans led by cheiftan not unlike Lord Humongous from Mad Max starring that anti-semite Mel Gibson. But god bless it, I love the show and I'm very ready to deal with the consequences that watching the show will clearly bring.
In honor of our deevolutionary trailblazers, I've put together a list of the MLB players most likely to make the cast of Jersey Shore once the current cast members are stoned to death by unruly European citizens hell bent on living in a society that doesn't dress like they're filming a dominatrix snuff film later in the day and doesn't want to murder people for access to gas.
Johnny Damon – OF – Tampa Bay Rays – Check the blow-out bro. He could walk on the set tomorrow in place of Paulie D, assuming he's not against fornicating with a legal midget with the vocabulary aptitude of a pre-Anne Sullivan Helen Keller.
Josh Hamilton – OF – Texas Rangers – One Jersey Shore pre-requisite is a love of tattoos, so Step 1: Check.  He's also into to hitting on, and taking his shirt off around, girls of questionable moral repute, so Step 2: Check.  His only potential issue is that he "doesn't drink anymore," which to me means he's one family BBQ Seabreeze away from a Mark Chmura situation in the downstairs half-bathroom. Step 3-14: Check and check.
Nick Swisher – OF – New York Yankees – Pictures, thousands of words, etc.
Jason Giambi – Oakland Athletics – 1B – That might be the exact same bicep tat that Vinny came to Miami with last year.  Tats, plus obvious steroid use should get him the green light to be cast next season.
Ryan Roberts – Arizona Diamondbacks – 2B – Tats, tats and more tats.  The only ink I see missing is a large tattoo highlighting what car he drives.  As all his fans know, Roberts is a huge proponent of reducing his carbon footprint, so he drives a Vespa everywhere.  Tell me this wouldn't look great tattooed across his entire midsection.
Tony Graffanino – SS – Red Sox – He really does look like a stand-up guy, but Tony's name is Tony, which obviously makes him a guido.  He's also getting a bud light poured on his head, which either speaks to his party nature, or to the fact that he's Italian and this is how almost all of us shower before putting on half a bottle each of Davidoff Cool Water and Axe Body Spray.  In either case, he'd be great for the show.
Gary Gaetti – 3B – Minnesota Twins – Gary seems to have a lot of body, a trait not seen on cast members not named Snooki.  However, copious amounts of body hair is certainly an Italian trait.  This paradox has troubled the worlds great thinkers for nearly four seasons and has left great minds like Stephen Hawkins' wheelchair with sleepless nights.  Gary's man sweater would be a welcome change to the hairless cast.
Mike Napoli – Los Angeles – C – Make it easier for me Mike, I dare you.
New York Mets – John Franco – Closer – He's got a great Italian name and more importantly his fist pump is top shelf.
Starting Pitcher – C.J. Wilson – An absolutely essential characteristic of a Shore cast member is a misguided thought that they are exceptionally attractive and should parlay that attractiveness into a modeling career.  C.J. Wilson is so far ahead of this game it's absurd. Try not to go from six to midnight looking at any black and white, backlit CJ Wilson shot, taken at dusk in what looks like a mountain range.  If there is still any doubt in your mind that he's perfect, feast your eyes on the meaningless Chinese symbols on his right arm in the photo below.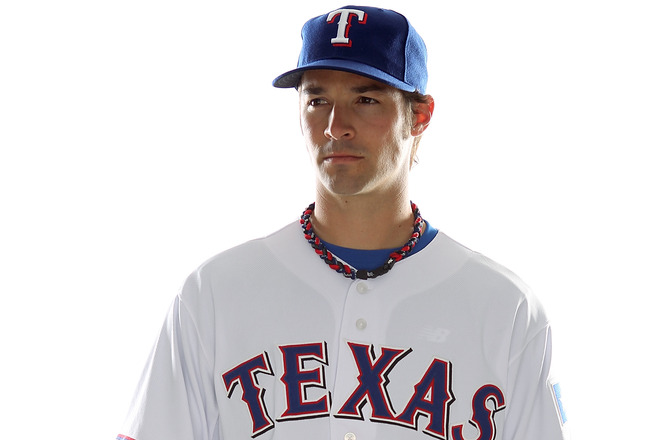 Manager – Bobby Valentine –  The catch phrases and t-shirt possibilities abound with the last name Valentine and a mustache reminiscent of Mario.
Let me know if I missed anyone in the comments.  Also, MTV, let me know if you want to pay me by check or through pay pal for doing all of your casting.